By Mike Pomranz | FoodAndWine.Com
Troy Warren for CNT #Foodie

The logo on each bag matches the NFL team that contributed soil to help make the chips.
While you bombard your taste buds with the heavenly delights of oil and salt, it can be easy to forget that potato chips begin life as an actual vegetable, reared from earthen soil. As one of the world's top processors of potatoes, Lay's certainly hasn't forgotten the connection between spud and snack — but how can they hammer it home with consumers? Oddly enough, they've found the answer with football.
To celebrate Lay's return to Super Bowl advertising after a 17-year hiatus — while simultaneously reminding football fans of their "long legacy of farming" — the brand has launched Lay's Golden Grounds: NFL team-branded potato chips made with spuds grown in fields that had been mixed with a bit of dirt from 29 of the league's teams.

Admittedly, it's a bit high concept, so let's take it step by step: Lay's says they started "by pulling soil directly from NFL stadiums and fields across the country." From there, "under the careful watch of Frito-Lay farmers, they mixed the soil into separate parts of the potato field to make chips infused with the grounds and the glory of each NFL team."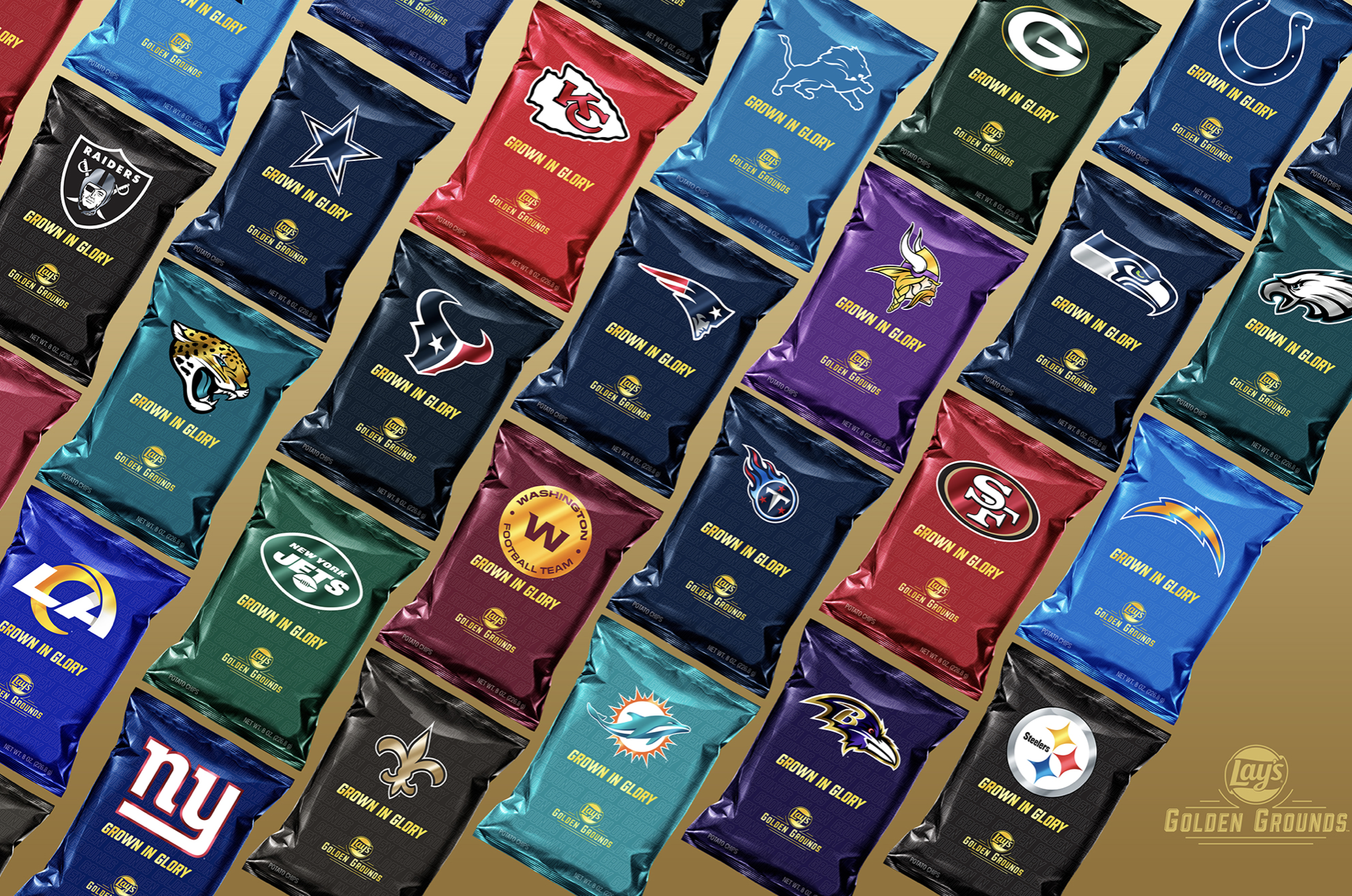 Sure, it's a bit like sending some vodka up in a weather-balloon, mixing it in with regular vodka, and calling the results "space vodka," but hey, it's the thought that counts.
Adding to the fun, a Lay's spokesperson clarified to me that, yes, the logo on the outside of the bag corresponds to the soil used, so if you're chomping down on the Green Bay Packers bag, the potatoes used were grown in a patch of soil mixed with dirt from Lambeau Field. A mere 200 bags of each team's chip were produced. (Though no explanation was given, the three teams that didn't participate were the Broncos, Bengals, and Browns, meaning they also don't have their own bags.)
"Lay's is all about bringing joy to our fans, and we know there's nothing that brings a smile to football fans' faces more than cheering for their favorite team at their home field," Stacy Taffet – Frito-Lay North America's vice president of marketing — said in the announcement. "The limited-edition chips are our way of celebrating fans who stand by their teams through victory, defeat and everything in between."
Speaking of limited-edition, no, unfortunately, these chips can't be purchased at stores (thus thwarting your plan to prove that, at the very least, the Patriots' potato chip still tastes better than the Buccaneers' potato chip). Instead, snack/football fans who want to secure one have to follow @Lays on Twitter and watch for Golden Grounds sweepstakes tweets from now until January 25. Lay's explains, "From there, fans can respond to the tweets showing love for their favorite NFL team (pictures encouraged!) and must use #LaysGoldenGrounds, #Sweepstakes and the official NFL hashtag of their favorite team."

In Other NEWS