By Jelisa Castrodale | FoodAndWine.Com
Troy Warren for CNT #Foodie

The robot arm, made in partnership with Miso Robotics, is being tested at Chipotle's innovation hub.
Could you tell the difference between tortilla chips made by humans and chips that have been made by a disembodied robot arm? Chipotle Mexican Grill is putting that question to the test. Earlier this week, it announced that it is testing an AI kitchen assistant called "Chippy" to see if it can replicate the flavor, texture, and crunch of one of its signature side dishes.
Chippy, which was created in partnership with Miso Robotics, has been trained to follow Chipotle's "exact recipe" when making the chips and will use the same trio of ingredients (corn masa flour, water, and sunflower oil) as his two-legged counterparts. But according to the restaurant's execs, Chippy isn't supposed to make perfect tortilla chips: in fact, they've taught it not to.
"Everyone loves finding a chip with a little more salt or an extra hint of lime," Nevielle Panthaky, Chipotle's Vice President of Culinary, said in a statement. "To ensure we didn't lose the humanity behind our culinary experience, we trained Chippy extensively to ensure the output mirrored our current product, delivering some subtle variations in flavor that our guests expect."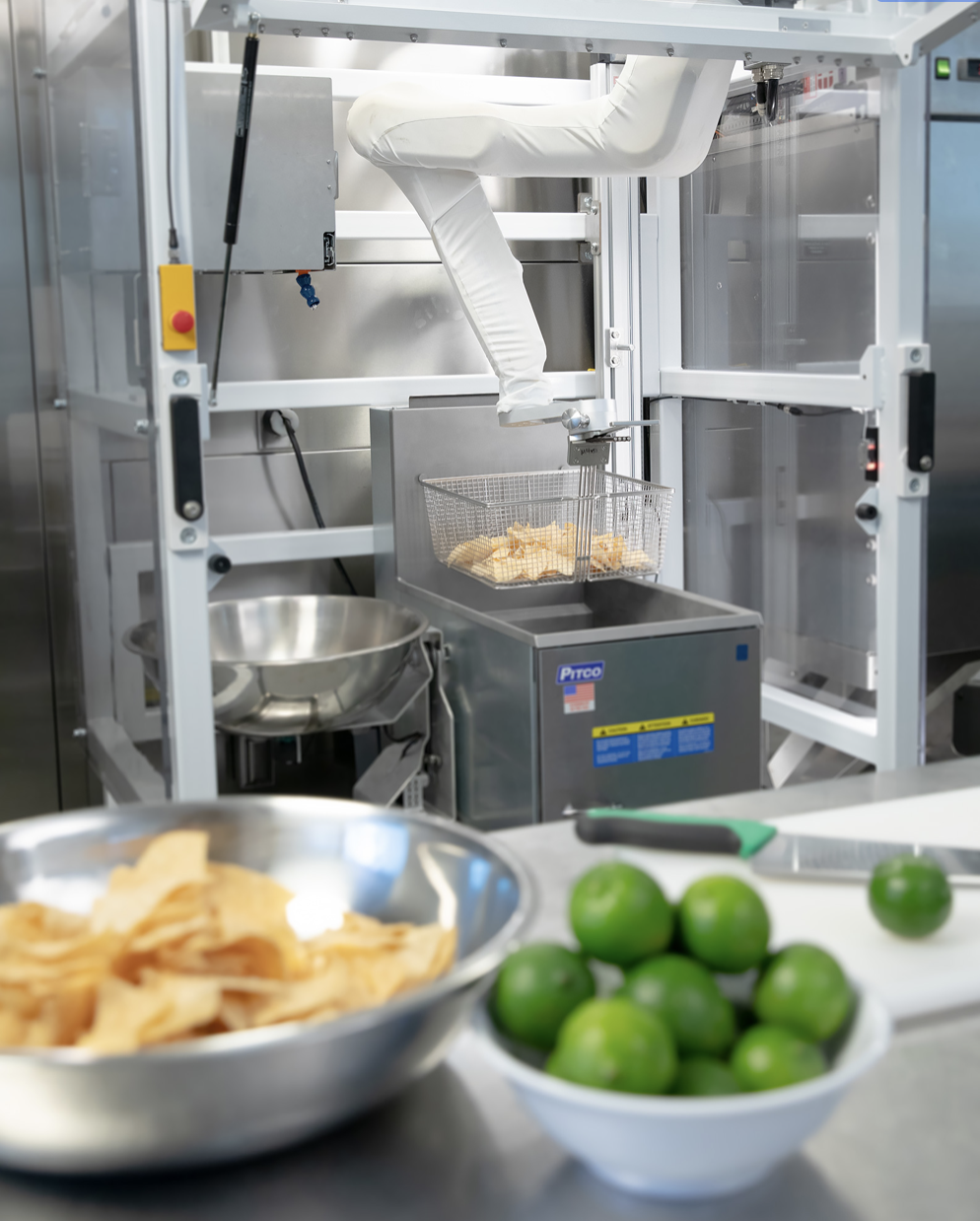 Chippy is currently being put through his lightly salted paces at the Chipotle Cultivate Center, the fast-casual chain's innovation hub in Irvine, California. Later this year, Chippy will get the chance to work in an as-yet-unnamed Southern California Chipotle location, and a further rollout will be determined after the company analyzes feedback from its employees and its customers.
Regardless of Chippy's chip-frying performance, Chipotle said that it isn't meant to be a replacement for actual human workers. "We asked our team members if we could find a better mousetrap for anything in the restaurant, and what that would be, and up at the top of the list was a better way to make chips," Chipotle's Chief Technology Officer Curt Garner told CNBC.
"We approached it from a lens of what would make it easier, more fun, more rewarding, and how do we take away some of the tasks that team members don't like and give them more time to focus on the tasks that they do," he added.
This isn't Miso Robotics' first venture into a fast-food kitchen. In February, the California company announced that White Castle would be installing Flippy 2, its next-gen burger-flipping robot, in 100 of its restaurants. (Its original Flippy had been working in a Chicago-area White Castle since September 2020.)
And last October, Miso Robotics revealed that Buffalo Wild Wings had begun testing Flippy Wings, the restaurant world's "only robotic chicken wing frying solution" at its Inspire Brands Innovation Center. A Flippy Wings unit — which is colloquially known as "Wingy" — will be tested in one of Inspire Brands' ghost kitchens before being integrated into a standalone Buffalo Wild Wings later this year.
Honestly, it kind of sounds like it's Chippy's and Flippy's and Wingy's world now. The rest of us are just eating in it.

In Other NEWS