By Jessica Bennett | BHG.Com
Troy Warren for CNT

Use what you already have to create a stylish yet functional shelf display.
Floating shelves are a kitchen design trend that isn't going anywhere anytime soon. You can find them in kitchens of nearly every style, usually stacked with an artfully curated selection of dishware and accessories. According to the 2021 Pinterest trend report, searches for "kitchen floating shelves decor" are up 130% compared to the previous year as people continue to trade upper cabinetry for this airier alternative.
Open shelves provide an opportunity to show off your personality in the kitchen, but figuring out how to turn your jumble of plates and mugs into a cohesive display can be daunting. Fortunately, there are a few simple design tricks that can help you create an enviable #shelfie using (mostly) items you already own. Follow these steps for styling open kitchen shelves to effortlessly pull off a gorgeous display.
1. Edit down your collection.
Open shelves should be reserved for a thoughtful selection of items. To start, assess your dishware collection and pull out the essentials you actually use every day, such as plates, bowls, mugs, and glasses. Storing these items on open shelves allows quick access to the dishware you use the most, ensuring your display is functional.
Consider how many of each item you typically go through in a day and plan to display no more than that. To avoid an overcrowded look, resist the urge to use up all available space for storage. Find another home for spare dishesand anything you'd rather not display, including food storage containers, kids' tableware, and anything that's chipped or damaged.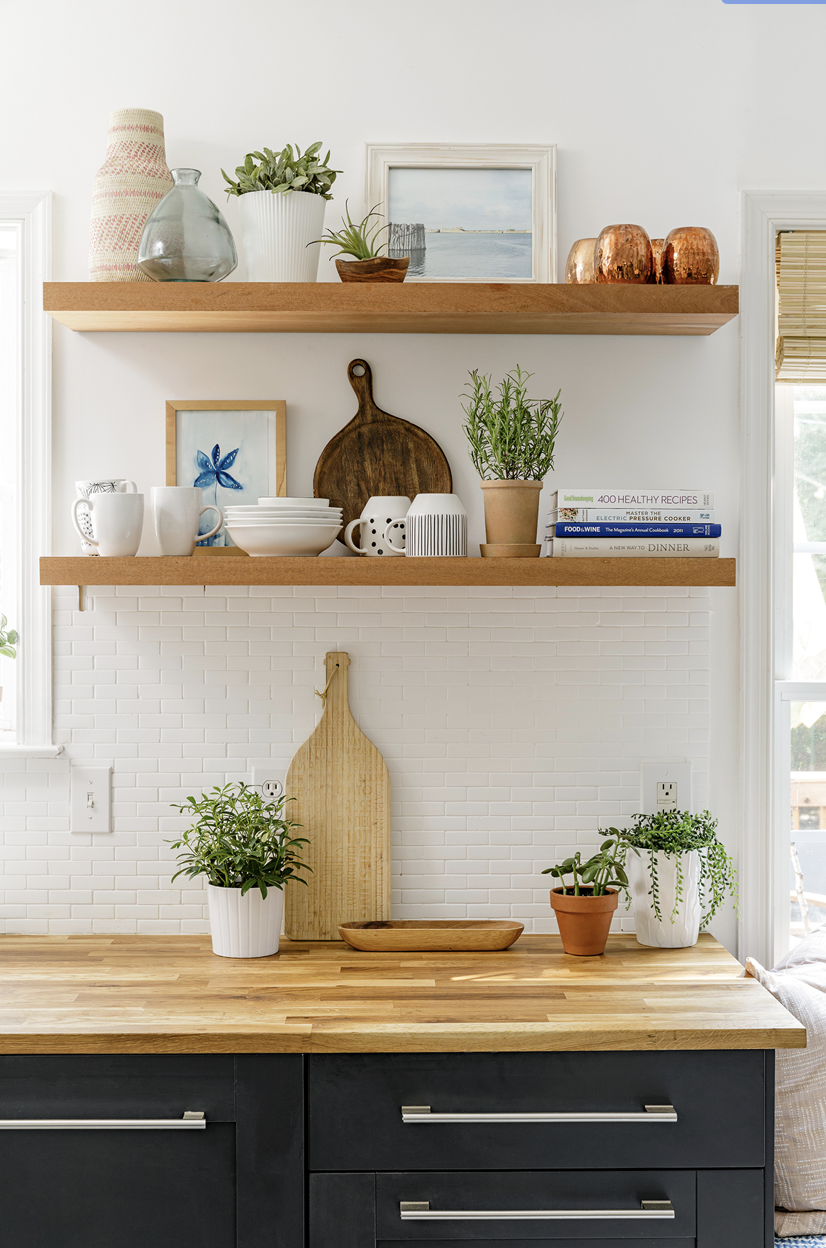 2. Mix dishes with other items.
Combine everyday dishware with accessories to create a more interesting arrangement. Shop around your home for items that can add dimension and personality to kitchen floating shelves. Grab a potted plant from the living room, and pull a few cookbooks off a shelf. Gather vases, trays, candlesticks, and other decorative accents that coordinate with your kitchen's color palette. Thrift stores are also a great place to find inexpensive artwork or fun accessories to complement your open shelving decor.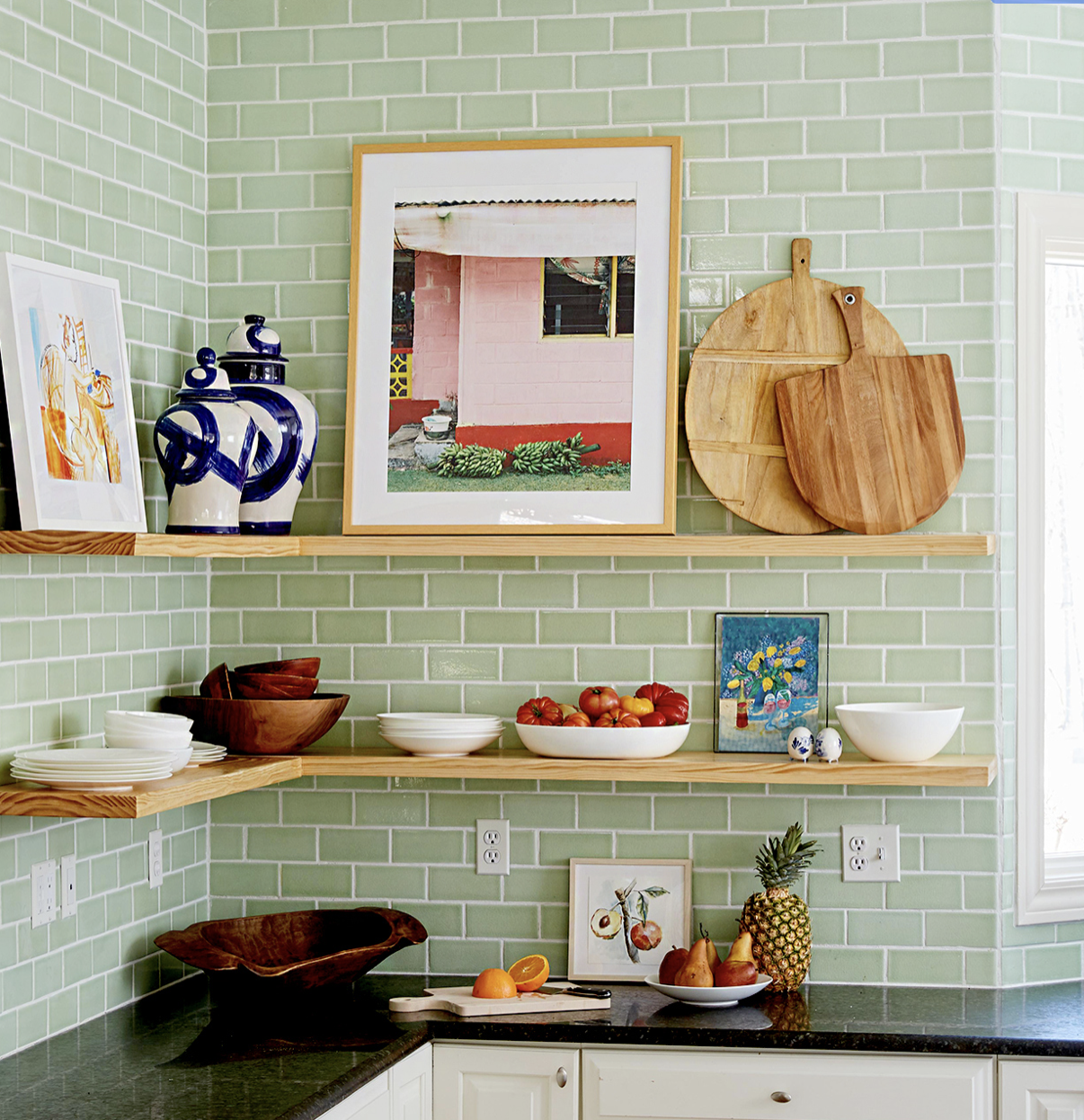 3. Place items on shelves according to use.
Consider ease of access as you decide where to place items on open shelves. For example, dishware you use on a daily basis should be arranged on lower shelves so it's easy to reach. Reserve the top shelf for lesser-used items like fancy glassware or artwork and accessories that are just for show. Make sure dishes aren't stacked too high or arranged precariously so you don't cause an avalanche when pulling out a piece.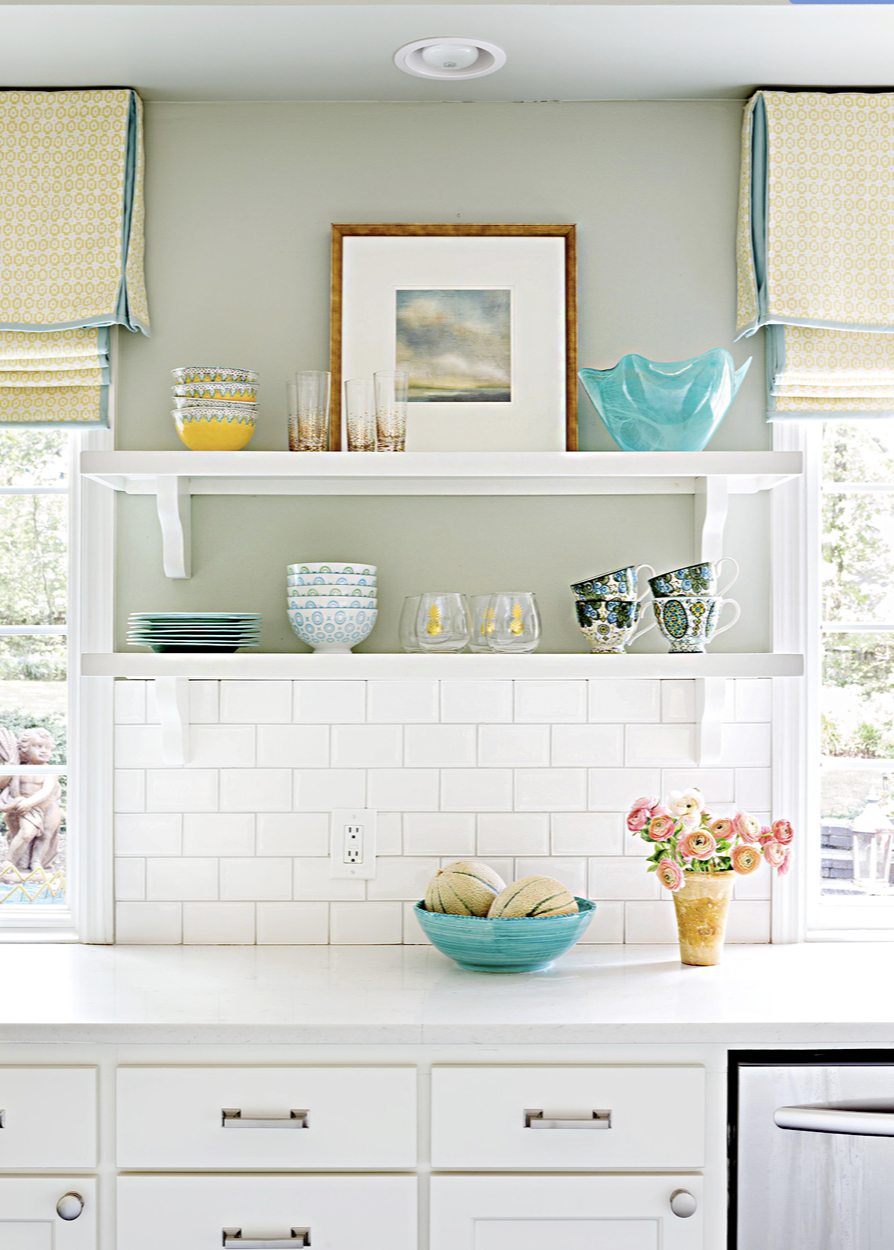 4. Vary size and scale.
Use items in a variety of shapes and sizes to create a more visually interesting arrangement. Start with your largest objects, such as framed art, wood cutting boards, or tall vases, and spread them out across the shelves. Next, fill in the gaps with medium-sized pieces, taking care to space out items with similar colors, patterns, or shapes for a balanced look. Intersperse the display with your smallest accessories to create a layered, collected effect. In general, it's best to leave some space between items so the arrangement doesn't appear too busy, but feel free to overlap a few pieces for a more casual display.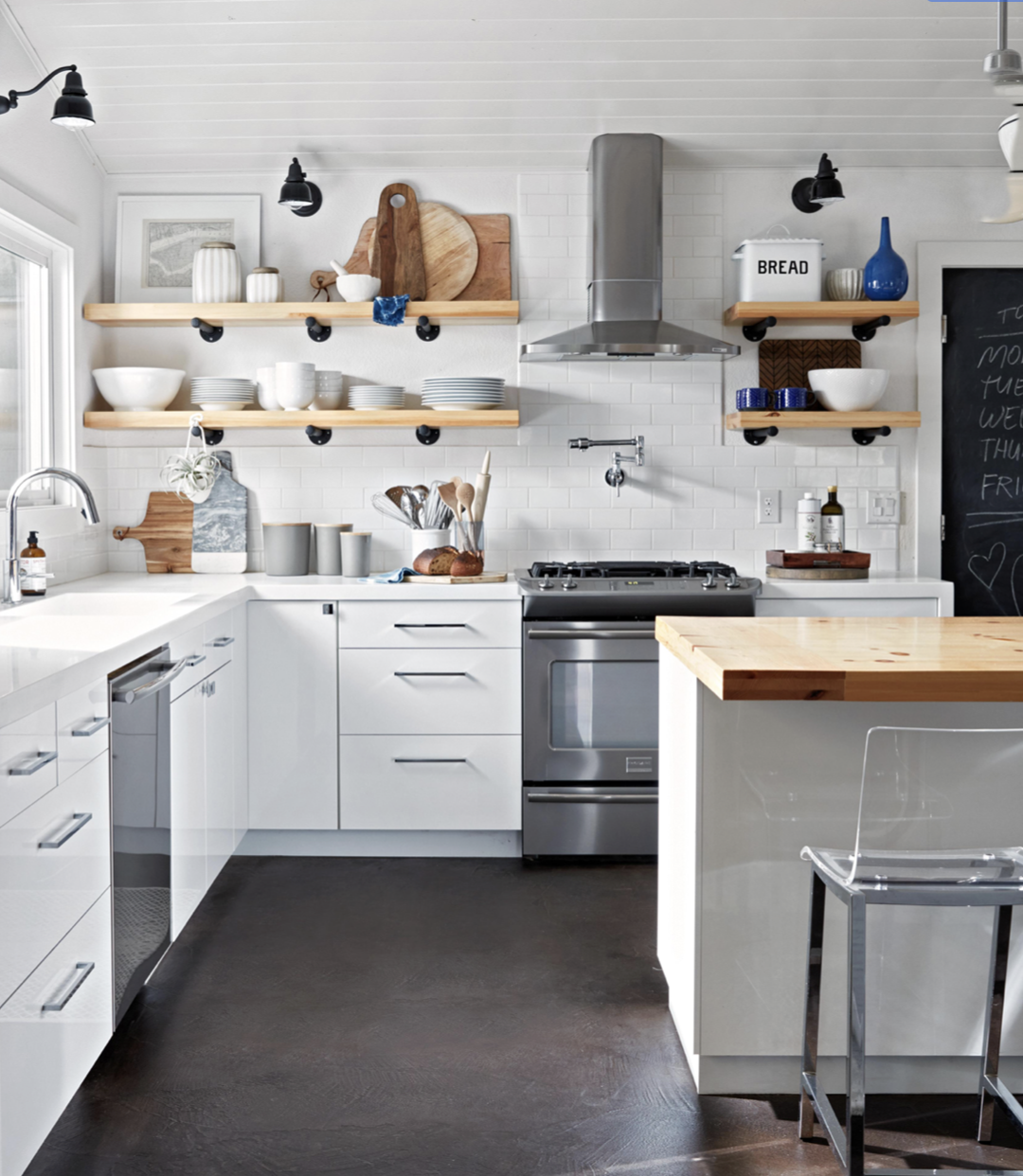 5. Accessorize the under-shelf area.
Don't forget about the space underneath when decorating floating kitchen shelves. Use this countertop area to ground the arrangement and complete the look. Lean a few wood cutting boards against the wall for a bit of texture and warmth, or add a bowl of fruit or potted herbs for freshness. Set out pretty canisters that provide hidden storage and a pop of color. Again, vary sizes and shapes for a more dynamic impression.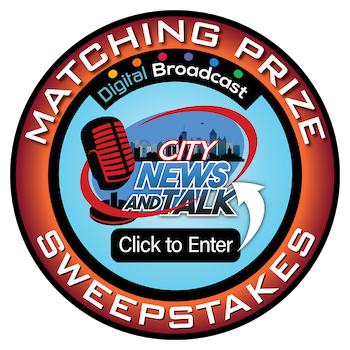 In Other NEWS