By Mike Pomranz | FoodAndWine.Com
Troy Warren for CNT #Foodie

Instacart broke down the nearly 445,000 gallons of hot sauce it delivered over the past year.
Your favorite brand of hot sauce can say a lot about you. Do you prefer the cayenne kick of Frank's RedHot or the jalapeno wallop of Huy Fong Sriracha? Or maybe you're infatuated with a smaller local hot sauce brand? Independent hot sauce producers have been popping up as fast as craft breweries and coffee roasters.
As an online grocery app, Instacart receives plenty of data on what hot sauces people buy, so the company recently compiled its own "Hot Take on America's Favorite Hot Sauces" to see if any details could be gleaned from people's buying habits between December of 2020 and November of 2021, which added up to 444,854 gallons of sauce sold through the platform in total.
Probably the biggest takeaway: Hot sauce preferences are extremely regionalized.
Overall, the top ten hot sauces, in order, were Huy Fong Sriracha, Frank's RedHot, Cholula, Burman's, Tapatio, Tabasco, Texas Pete, Heinz, Louisiana, and Valentia. (Worth noting: These rankings are a shuffle from Instacart's 2019 rankings which had Cholula first, followed by RedHot and Huy Fong.)
However, the state-by-state sales paint a much more intriguing picture: Though Huy Fong captures a lot of the country, especially west of the Mississippi, Frank's holds a block of states across the Rust Belt. Texas Pete didn't top Texas, but it was number one in both the Carolinas. And similarly, though Original Louisiana Hot Sauce was beaten in its namesake state, it was the top seller in Mississippi. A few other states were also outliers: Iowa opts for Burman's, New Mexico is into Bueno, and North Dakota likes Village Hot Sauce — a choice made even more intriguing since North Dakota bought more hot sauce per customer than any other state.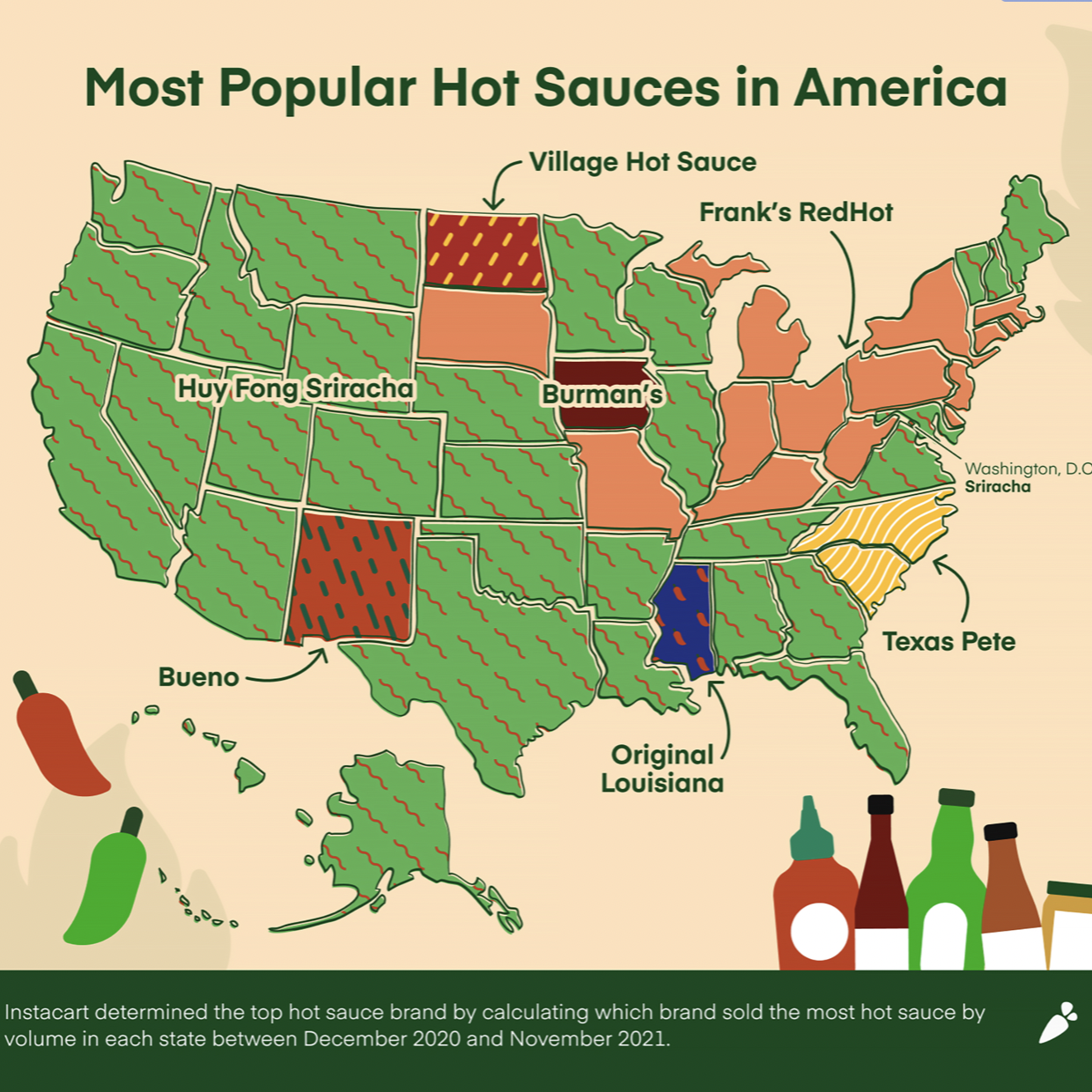 Importantly, Instacart created its rankings based on weight, a choice intended to be more comparable than the number of bottles, which can vary in size. But it's also worth considering that not all hot sauces are equal in other ways: For instance, I'm far more likely to glob on Huy Fong Sriracha than I am Tabasco sauce.
And so, the debate will rage on — even in our own kitchens. A Harris Poll conducted by Instacart found that 68 percent of hot sauce eaters have two or more brands at home while 80 percent use different brands for different dishes. Additionally, the poll found that 83 percent of hot sauce users are "either very or somewhat open to trying hot sauce brands that are new to the market, and 71 percent are either very or somewhat likely to purchase something new over their favorite hot sauce brand."
"Over the past year, we've noticed that hot sauce enthusiasts are reaching for newer brands like Maya Kaimal and Truff, which top the list for Instacart's fastest-growing hot sauce brands," Laurentia Romaniuk, Instacart's trends expert, stated. "These newer brands are likely gaining traction among hot sauce enthusiasts because they offer up unique flavor profiles that also pack a punch, incorporating everything from truffles to traditional Indian spices. With many hot sauce lovers willing to go to Scoville extremes, it's no surprise they're also branching out and becoming more adventurous when it comes to discovering new flavor options."

In Other NEWS