By Sarah Halverson | BHG.Com
Troy Warren for CNT #HomeGarden

This bright and dreamy laundry room features smart storage and thoughtful design details that make quick work of cleaning tasks.
Sopping swimsuits, heaps of sheets, and beach towels by the bundle fill this hardworking space. Laundry seems to perpetually pile up at this Minnesota vacation home, which is nestled on a lake for nearly nonstop summer play and a stream of weekend guests. But getting clothes and bedding clean is rarely a drudgery, thanks to the room's deft design, abundant storage, and soothing cabinet color.
"That paint is my favorite part of the room," says Elizabeth Darth, senior interior designer at Martha O'Hara Interiors, who partnered with Bhavana Bhimavarapu, lead interior designer, to configure and beautify the space. "It's so bright and cheerful and bold," Darth says.
Behind that pleasant pop of Robin's Nest paint by Benjamin Moore lies convenient features and layers of storage that help streamline every cleaning task. "Form with function, that's what we did," Bhimavarapu says. "The laundry room is cute, but at the same time, it's very functional."
At 12×9 feet, this lake-house laundry room is large enough to serve not only as a place to wash and dry clothes but also as a spot for storing household overflow, such as batteries and lightbulbs. Picket-shape subway tile, black hardware and sconces, and patterned floor tile elevate the look.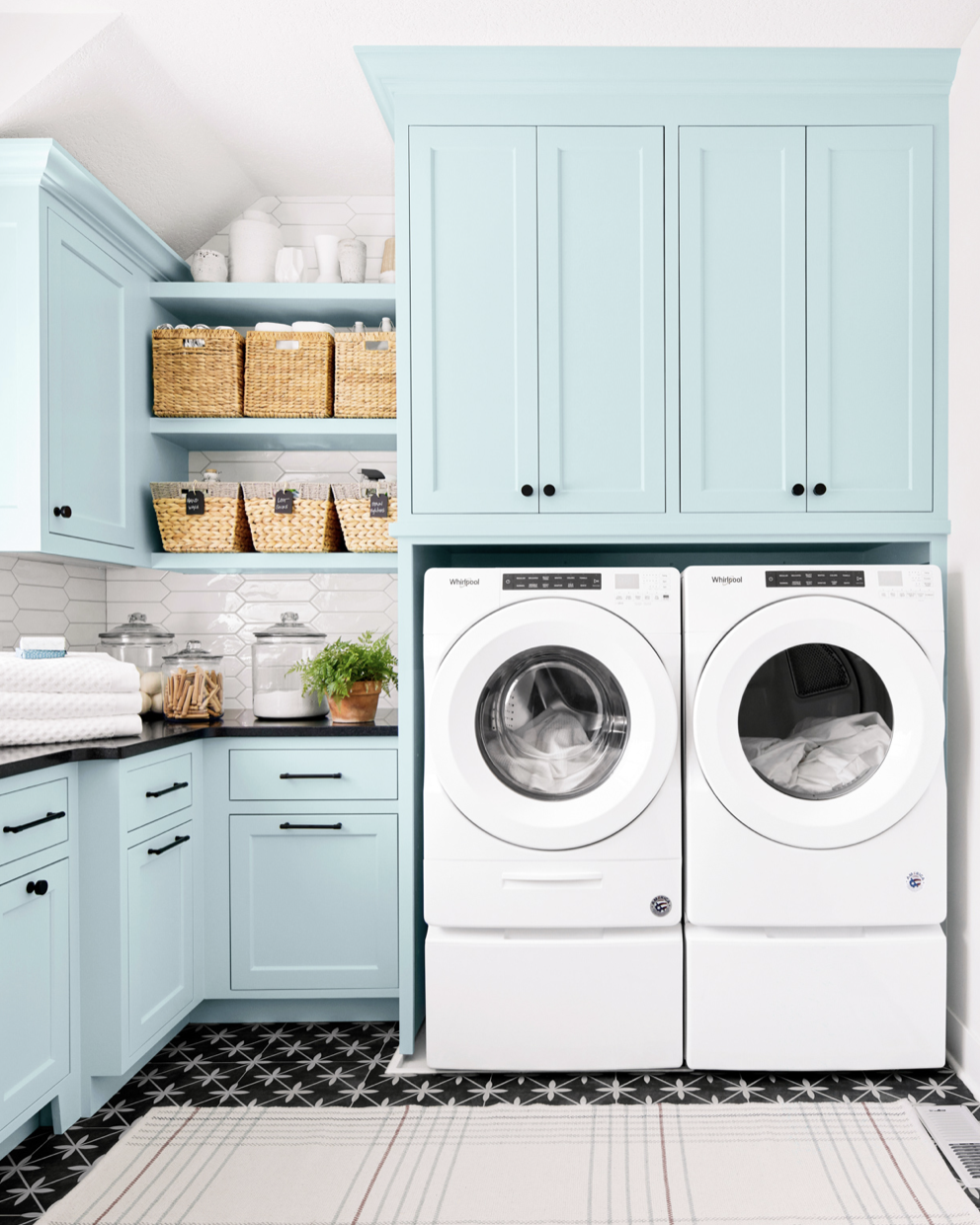 The washer and dryer are set on pedestals so they're easy to load and empty without stooping. Cabinets above them are deep enough to stash suitcases, a sewing machine, sleeping bags, blankets, and other bulky items. The cabinets are capped by decorative molding that stretches to the ceiling.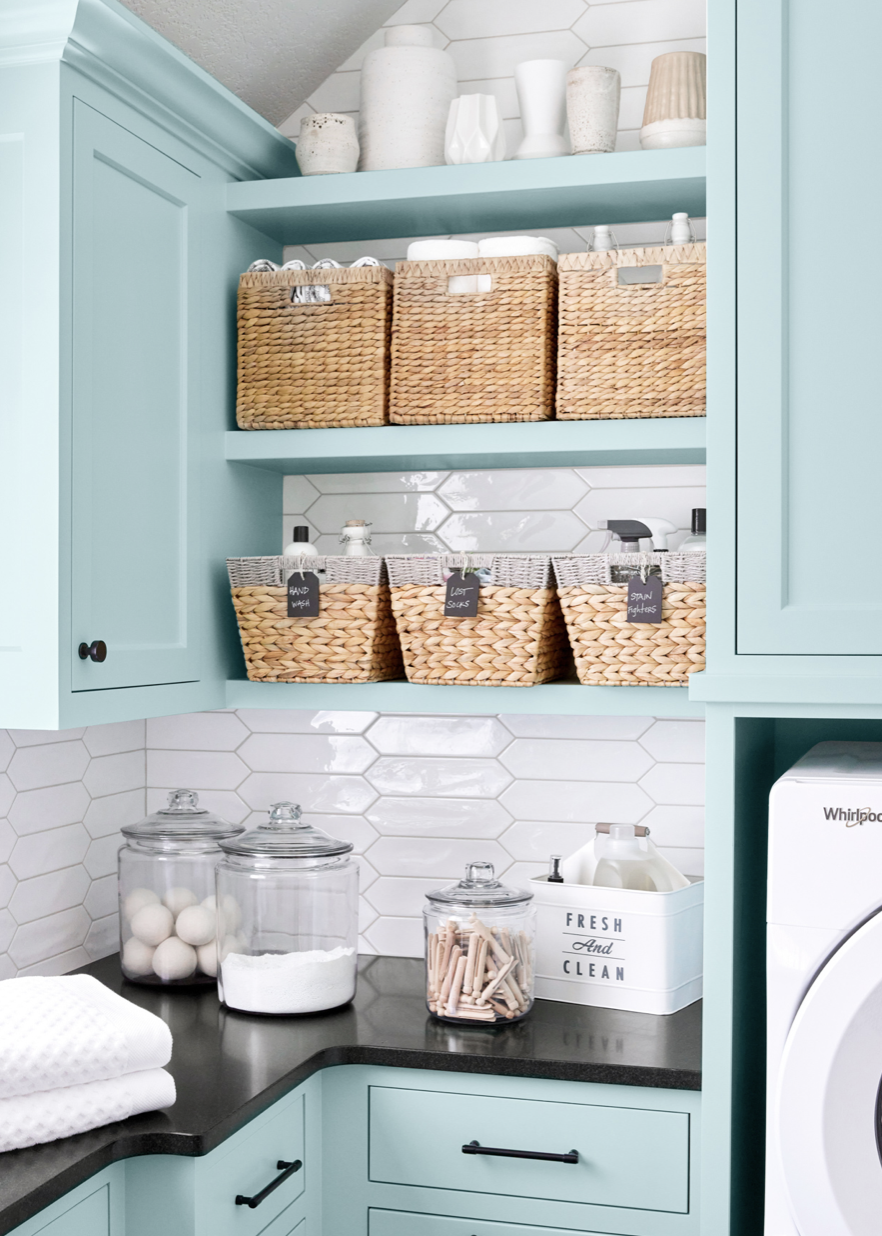 A set of open shelves puts a tricky corner area with slanting ceilings to work. Matching baskets keep extra paper products, cleaners, and stray socks in easy reach while giving the open shelves a streamlined look.
Stain treatments, brushes, and specialty detergents stowed in a basket near the washer eliminate extra steps in this hardworking room. Labels on the wicker baskets ensure everyone can find what they need.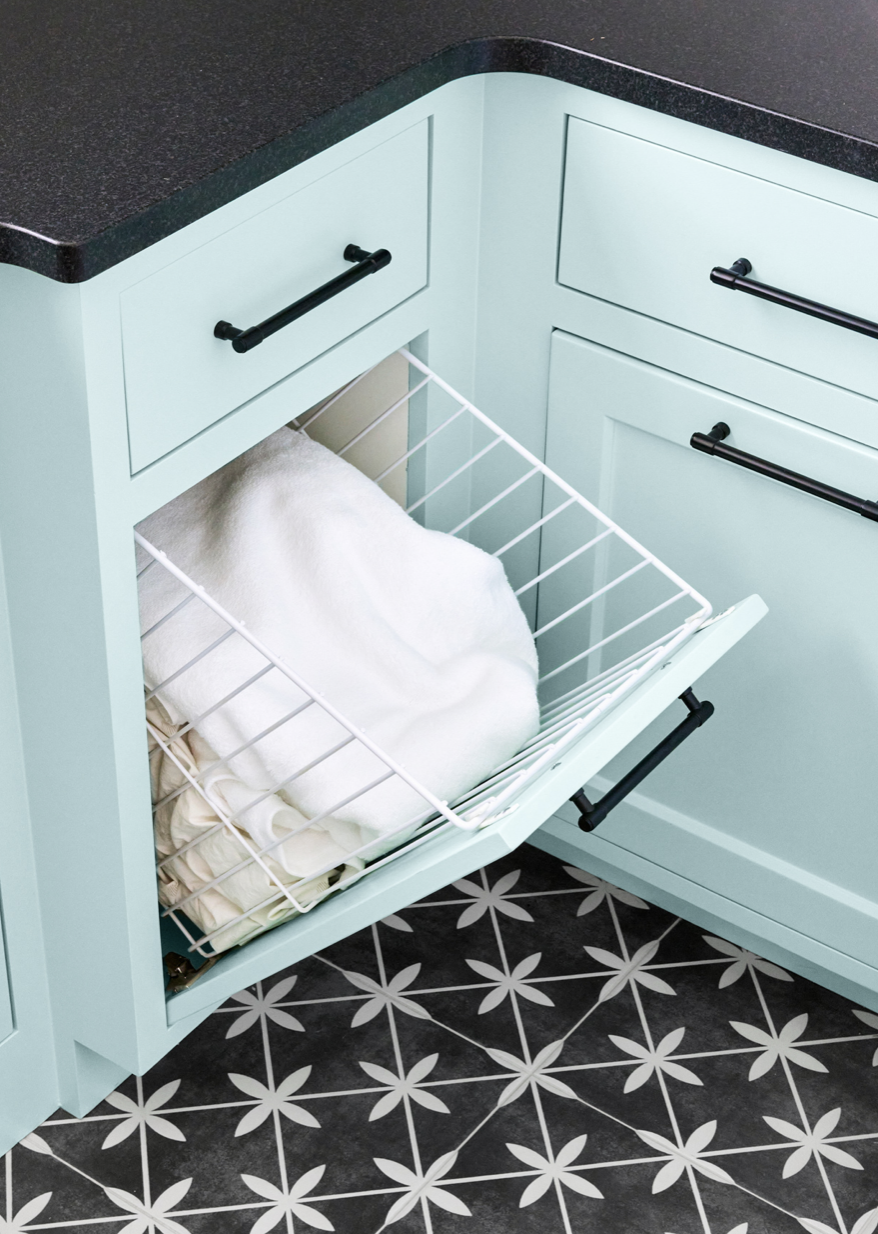 This household generates a lot of laundry, especially when family is visiting, so the designers installed two corner cabinets with built-in hampers. The hampers keep dirty laundry hidden behind cabinet doors. The front panel swings down with a gentle pull.
The space under the sink is outfitted with roll-out drawers and trays that round up cleaners and sponges. "These days, we use similar organizers in a laundry room as we do in a kitchen because it's such a utilitarian room," says designer Bhavana Bhimavarapu.
Drawer dividers keep nails, twine, batteries, screwdrivers, and other household items from rolling around and getting jumbled. "This drawer makes me so happy—it's a great use of space," says designer Elizabeth Darth.
The charming farmhouse sink, with its tall back and angled apron, is surrounded by shallower cabinets with toe-kick details. The spacious sink gets plenty of use for handwashing delicates, filling water bottles, and soaking swimsuits.

In Other NEWS