by Hannah Tan | RedFin.Com
Troy Warren for CNT #HomeGarden

We're all familiar with traditional spring cleaning, but as the weather cools and we transition to spending more time at home, it's time to make room for the upcoming winter and holiday season.
With the promise of holiday shopping, baking, decor, and festivities right around the corner, getting a headstart on these essential fall organizing and decluttering tasks ahead of the holidays will ensure your home isn't bursting at the seams come January.
To help you get started, we reached out to experts from Delta, BC, all the way to Boston, MA, for their best advice on compiling a manageable checklist for every room in your home. Whether you're starting from scratch or need a little extra guidance, here's the ultimate fall home organization checklist to prep your home for a stress-free fall and winter.
Organization checklist for the living room
1) Before you begin the process of decluttering, take stock of your space
Over time we develop clutter blindness where our eyes overlook the clutter we accumulate, making it difficult to identify. Stand on a chair, sit on the floor, or better yet, take a photo of your space to see it in a new way. Identifying your clutter in this way will point you in the right direction of where to begin. –Neat as a Pin Organizing
2) Keep it minimal if you have a designated junk drawer
A junk drawer is not always just junk. You have kept these things for a reason, so why not make it easy to find these important items by displaying them in a way that looks tidy. First purge, and then sort the needed items into categories. Head to just about any store (even the dollar store) and find some drawer bins and stick them in there. –Organization With Style
3) Group like items together
The winter months are the perfect time to go through your home and group-like things together. Think of things in groups: gift wrap, school supplies, office supplies, cleaning supplies, gift cards/coupons, and memorabilia. Collect all items in one category and then: 1) Sort, 2) Purge, 3) Organize, and 4) Contain. Grouping like items together will save you time when you are looking for something and save you money because you will know how much of that category you currently have. –Jennifer Ford Berry
4) Replace regular decor with seasonal items and swap them once the season is over
As you pull out your decorations to deck the halls for the holidays, remove some of your everyday decor and stash it into the holiday decorations boxes you are emptying. This will create space and keep your home from looking cluttered. When you take down your seasonal decor, you can quickly and easily replace it with your everyday decor. –Organized and Energized
5) When decluttering sentimental items, determine what's worth keeping and what's worth letting go
If you're holding on to a sentimental item that you don't like or don't want to display, but feel the need to hold on to because the person it belonged to has passed, sell or donate it. The person who owned the item has passed, and no matter what you believe happens to us after we are gone, that person no longer cares about worldly possessions. They will not be angry at you for getting rid of it. Let it go and make room in your own life. –Neat Freak Professional Organizing
6) Determine the room's purpose and edit your items accordingly
Identify what activities take place in your living area and ask yourself if everything in the space currently supports those activities. If not, relocate items to their rightful home or donate/sell/recycle if they are no longer needed or loved. Then, organize what's left in zones by activity, for example, watching TV, reading, playing games. Rotate your photos, collections, and artwork for a fresh 'curated' look each season, reducing visual clutter and saving time spent cleaning. –a sharp space
7) Declutter and design based on the feelings and intentions you want to cultivate in your gatherings
This holiday season will be the first one since 2019 that many of us will be with our loved ones, so take the time to bring all of your most joyful items from dust-filled closets and place them on sparkling clean dining tables to celebrate together. Go through your kitchen pantry, dining room storage units, and closets and pull together items – think serving ware, candlesticks, ornaments, etc. Then decide what to keep and use for your gathering by asking yourself – do any of these items come from guests who will be visiting and do they represent special memories I want to share with my loved ones around the table? Decluttering and designing based on the feelings and intentions you want to cultivate will make your gathering extra special (and provide a good marker of what isn't special enough to keep holding onto). –Decluttered by Jenny Albertini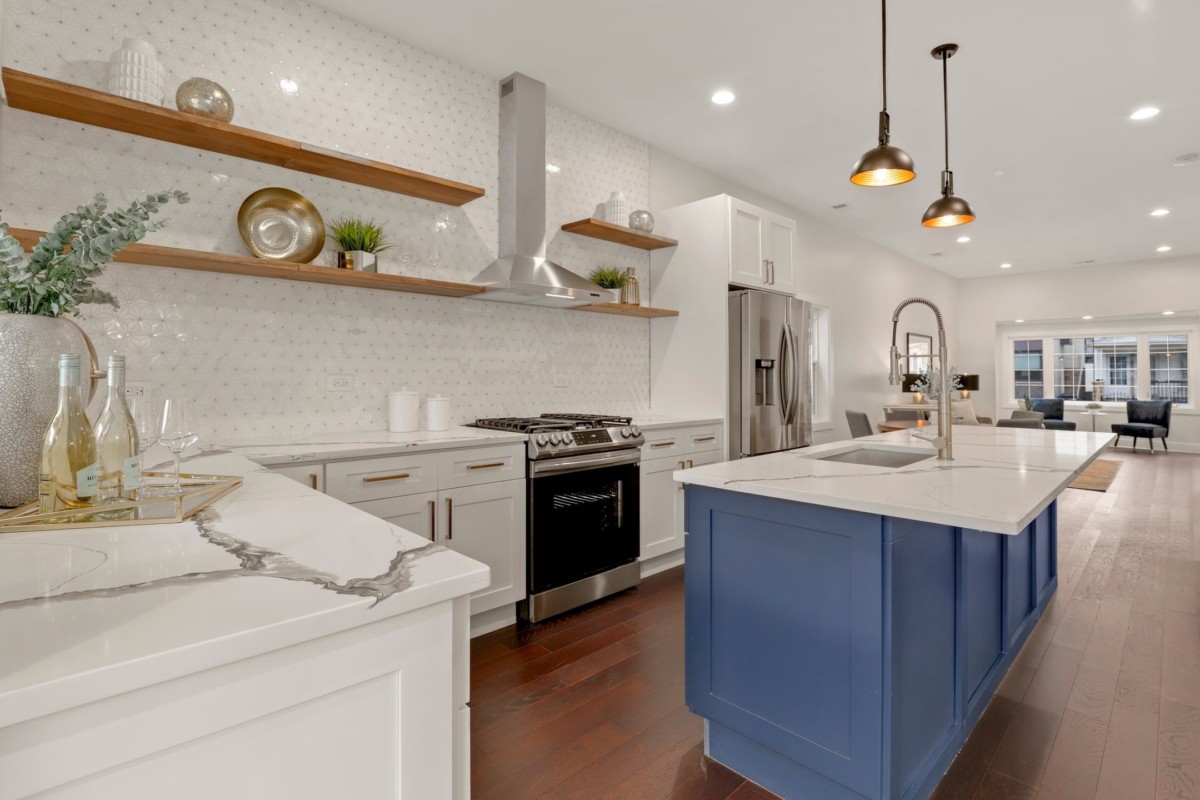 Organization checklist for the kitchen
8) Start with a clean slate when organizing your cabinets
Find a home for everything in your cabinets by emptying your cabinets. Once that's complete, sort into three piles: keep, toss, and donate. Keep what you really use, toss chipped mugs or mismatched glasses, and donate appliances and gadgets you never use. Then designate a home for the items you keep and return them to their home after each use. Organized cabinets will help prevent clutter from piling up on your counters. –NY Organized
9) Downsize your tableware
Only keep as many plates, bowls, mugs, glasses, and utensils as you use in your everyday life. Don't have endless spares – think practical, not pretty. –Florida's Professional Organizer
10) Avoid food waste by editing your pantry
Kitchen pantries can turn into "black holes" – they run deep and often lack sufficient lighting. Avoid food waste or duplicate items by using a lazy susan or wire (see-through) baskets to store spices, condiments, baking supplies, cooking oils, etc. –Organizing by Kari
11) Store to-go cups and lids in easy-to-reach containers
Store to-go cups in the kitchen cabinet closest to your coffeemaker. Those varying lids can be a hassle and cause frustration when on the go, so keep them in a lidless Tupperware container right next to the cups for easy selection. -Liana McGinley, Moss & Mint Homes
12) Declutter your kitchen before the holidays
Decluttering ahead of the holidays helps you get rid of things you don't use and familiarizes yourself with where everything is when baking is in full swing. Having everything decluttered and every item organized in a specific place will help you remember where things are for when you're baking your holiday treats. –Practical Perfection
13) Have a designated spot for each item
Where you store your kitchen items matters. Everyday items should always be within arm's length of the area that you use them. For example, spices and oils should be near the stove, while coffee beans, grinders, filters can be placed in a tray by the coffee pot. Bowls, plates, and cups are best on the lower shelf of the upper cabinets. Bulk and heavy appliances like mixers, air fryers, and crockpots are easier (and safer) to access on bottom cabinets. Leave the top shelves of the upper cabinets for the items you use only once or twice a year, like special serving dishes, holiday-themed cookware, etc. –Shena Moore
14) Create the perfect baking section by grouping like items together
Baking ramps up in my house this time of year, so it's a great time to tidy or create a proper baking section in your pantry or kitchen. Gather all of your baking ingredients, discard anything that's expired, group items into categories (ingredients, cookie cutters, decorating items, etc.), and find a convenient space where they can all live. This may require moving some other items to a new home, but in the end, you'll be so happy baking up your sweets without rummaging through the whole kitchen. –Sort & Soul
15) Alphabetize and label your spices
Use a label maker or create large, readable labels for your spices. Fall and winter can be busy times in the kitchen. Therefore, alphabetizing and labeling your spices now will help you stay calm, organized, and more efficient during the chaos of the holidays. –Utterly Organized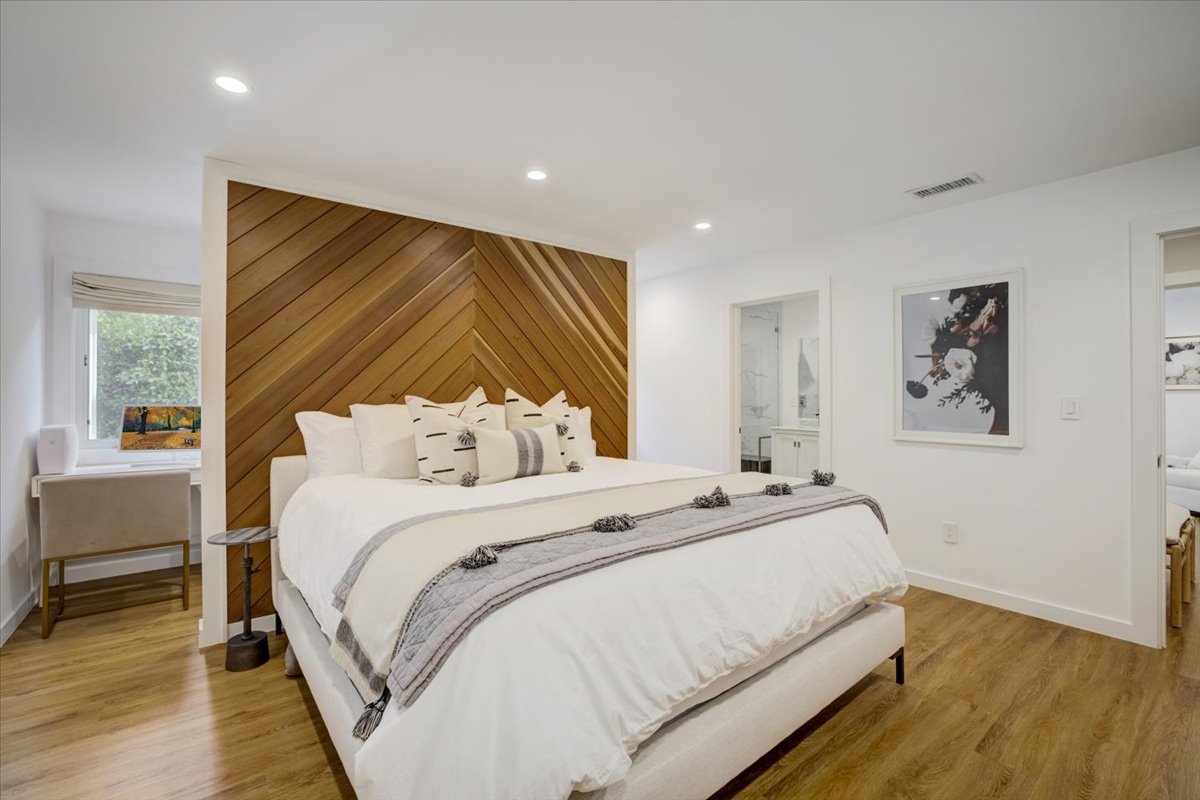 Organization checklist for the bedroom
16) Make use of vertical space
Things always look less cluttered when hung up or on a shelf instead of a surface. Anything that can be picked up off the floor and can be contained in a basket or container will look less cluttered. –Sabrina McIntosh Northland Organizing
17) Keep a donation box or bag handy
Making organizing a part of your routine is as easy as keeping a box or bag in your closet/bedroom where you can put clothing items that you no longer like, don't fit, or you simply know you won't wear anymore. This technique will help you constantly refresh your closet – especially now as the seasons are changing. When the bag or box is full, schedule a pickup or take it to your favorite thrift store – help others as you help yourself. –Back in the Box
16) Don't forget to edit your bathroom drawers
Go through the product graveyard that looms in your bathroom: lotions, shampoos, soaps, bath salts, conditioners, excess travel products from hotels, etc., and donate the items you will never use again to local shelters. –Modern Manifestation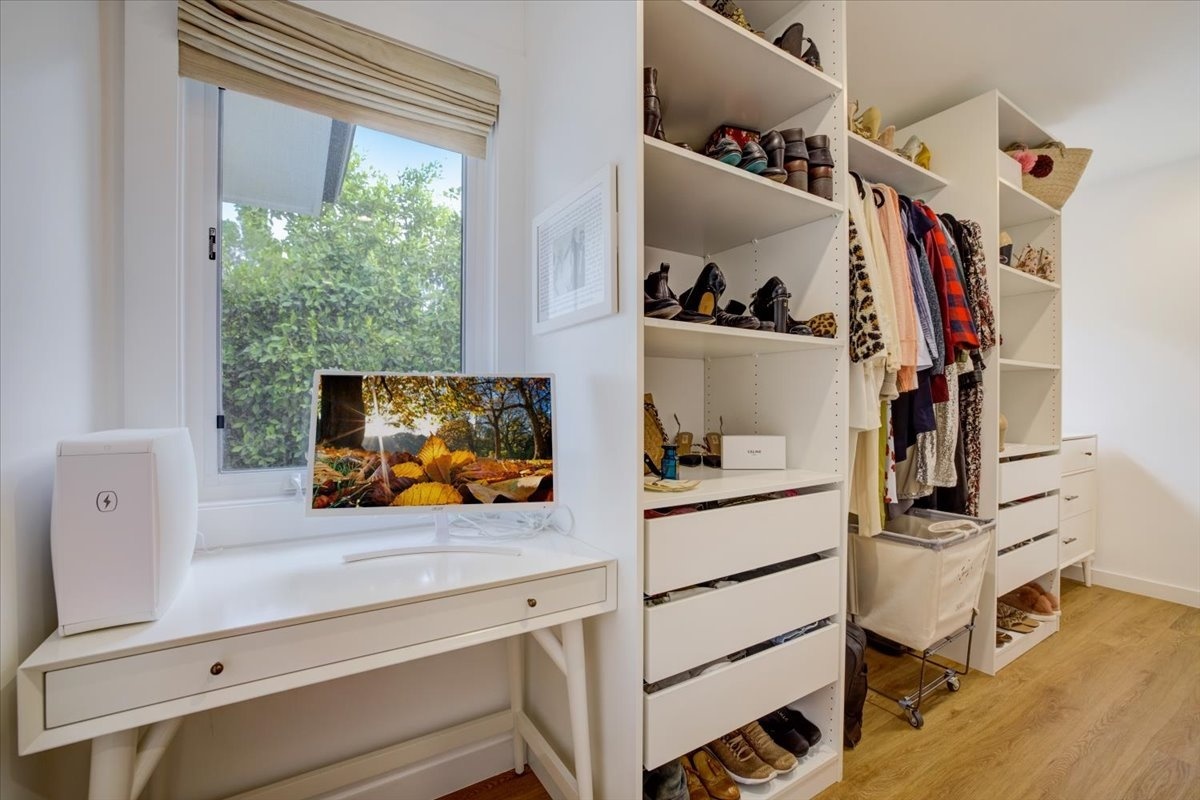 Organization checklist for the closet
19) Avoid cramming closet shelves with out-of-season accessories by adding fabric baskets neatly arranged in easily accessible areas
Label each bin with the name of the family member, and the name of the current season (such as "Fall Items"). Only store accessories such as light scarves and thin gloves each person is currently using in the baskets during a given season. By switching out accessory baskets each season, you can prevent a cluttered closet stuffed with items not being used. –Spaces Transformed
20) Consider creating a capsule wardrobe when decluttering your closet
When decluttering your closet, take everything out and only put back the things you love and know you will wear. You can create over 100 outfits with only a few key pieces, and it will free up a ton of space in your closet. Set a timer for 30 minutes and work on a small area. You'll be surprised how much you can get done in 30 minutes. Also, have a donation box available, so you can take the box straight to the donation center when you finish decluttering for the day. –SimpLeigh Organized
21) Curate your closet by season
Early fall is a great time to switch over our wardrobes in preparation for winter, so schedule a few hours to a half a day for a full switchover. Start by pulling all your spring/summer clothes out and edit all the clothes you didn't wear this past summer. Next, edit all the clothes that don't spark joy for you anymore. If you know you aren't going to wear them again, pass them along so someone else can love them as much as you did and toss out or fabric recycle anything that is torn or stained.Next, pull all your fall/winter clothes to the front and go through them to ensure you still love them, and they spark joy for you currently. Anything that no longer sparks joy or is worn out can be placed in your edit pile. If you have specific clothes for work, group them together to keep them distinctly visible and separate from your other clothes. –Organize by Flo
22) Create an easy-to-follow system and routine
Replace your wire hangers with permanent, sturdy plastic or wood hangers. These will keep your clothes less wrinkled and make them easier to find. If you sometimes purchase clothes that you end up not wearing, consider keeping the tags on and pinning the receipt to the clothes. If you end up not wearing it for a few months, it will be easy to return it. –Clutterbusters!!
23) Divide and conquer one task at a time
How do you get organized? One small task at a time! You wouldn't want to task yourself with "organize my bedroom." Avoid getting overwhelmed by breaking this task down into smaller, more "bite-sized" tasks. Some examples can include going through a pajama drawer and donating or tossing all the pajamas you don't wear anymore, sorting through your makeup drawer and throwing out any old mascaras or lipsticks, or going through your sock drawer and throwing away any that are threadbare. -Organized Haven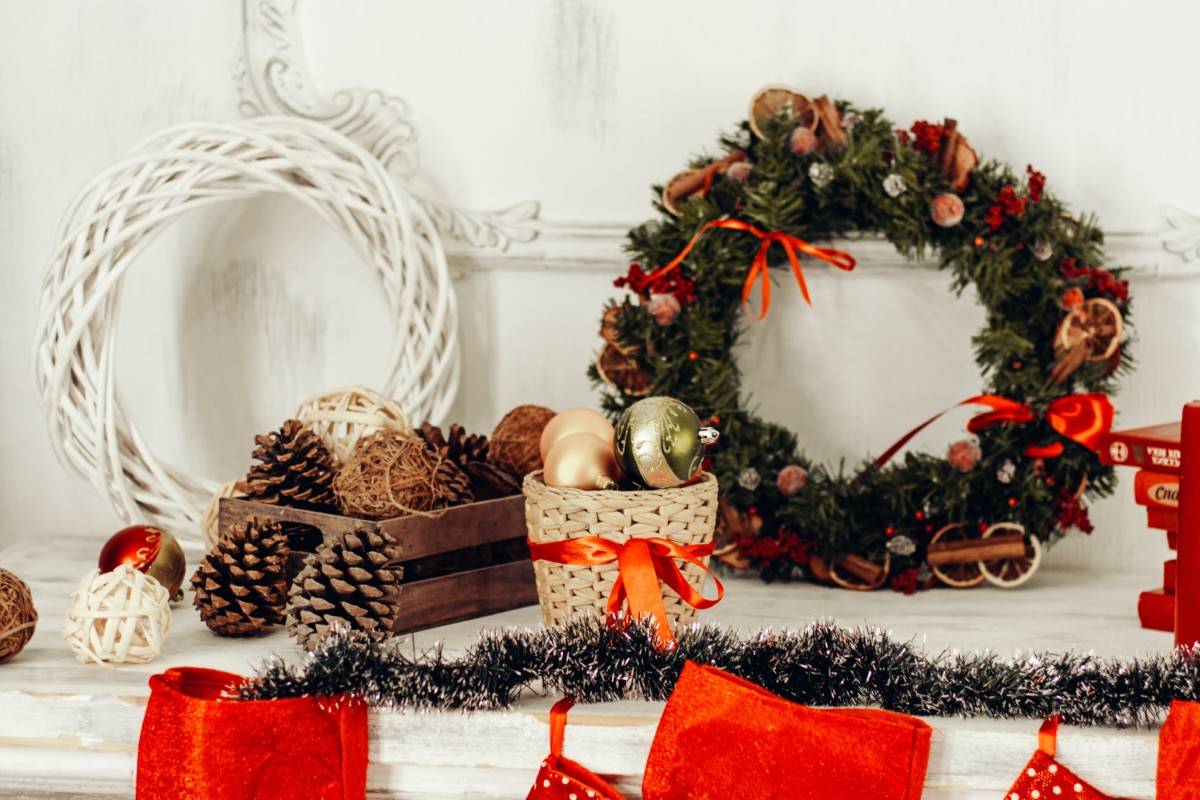 Organization checklist for holiday decor
24) Donate unused holiday decor
When you're decorating for the holidays, there are always those few items that don't end up being used. Instead of having them sit at the bottom of your storage bins taking up precious room, donate them now while people are still scouring the stores for decorations. If you really love it enough to keep it, you'll find a spot to use it this year. If it's holiday art your kids did in years past, don't store it with the decorations anymore, put it in a memory bin instead. –Hello Simplified
25) Have a system in place for holiday decor
Include decluttering your Christmas collection before you start decorating for the holidays on your fall home organization checklist. Our Christmas collections can grow every year, and we end up storing more than we can actually use. Start by opening each box and unpack only your favorite, most loved, and cherished items. Whatever is left in the box, donate or toss. Paring down your items first will make it easier to re-pack the items after the holidays and may have the added benefit of freeing up storage space in your home or garage.
When you are ready to pack up your decorations after the holidays, store them by location and label each bin. For example, fireplace mantel, kitchen, guest bathroom, dining room, entryway. Also, have separate bins for Christmas blankets and clothes. Labeled, clear bins make it easy to see what you are storing and find your holiday decorations next year. –Sorted by Stacy
26) Give yourself time to enjoy your seasonal decorations
When decluttering seasonal decorations like Christmas, wait until after the holiday. Whatever you didn't put up, minus the heavy emotional attachment, try to purge. Most likely, you won't put it up next year. Also, when putting it away, try to put it in bins with labels of what's inside each bin. That way, it's easy to find exactly what you're looking for. –Foundation Organizing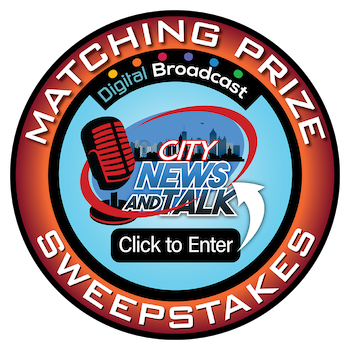 In Other NEWS