By Kathy Barnes and Caitlin Sole | BHG.Com
Troy Warren for CNT #HomeGarden

Butcher block started as a cutting surface for meat processors, but today's homeowners use it to create eye-catching countertops. Before buying this popular material, check out our comprehensive primer to learn if butcher-block countertops are right for your kitchen.
Made from straight cuts of wood that are glued together into slabs, butcher block makes a sturdy, attractive countertop. Butcher block is most commonly made from maple, which is hard and has a clear grain, but it can be crafted from any wood. The material has rustic warmth and classic appeal that complements cozy country, cottage, and traditional kitchens. It can also add unexpected contrast in a stark, modern space. Learn about the pros and cons of this popular kitchen countertop material, the average price of butcher block, and how to extend its lifespan with proper maintenance and upkeep.
Benefits of Butcher-Block Countertops
Butcher-block countertops have a long history, and for good reason. If maintained properly, wood is durable and develops a deep patina over time. Butcher block tends to show nicks and scratches for a shopworn look, but if you don't like the wear and tear, you can lightly sand out flaws and re-oil the surface to restore it. If you want to use your countertop as a cutting surface, choose an unsealed, oil-finished product designed for food preparation. With permeable sealants, wood has natural antibacterial properties that make it ideal for cutting.
Butcher-Block Pros: Durable; attractive finish; easy to repair and restore; naturally antibacterial.
Disadvantages of Butcher Block
Wood countertops aren't without faults. Most notably, water is potentially hazardous to wood, so unsealed butcher block isn't recommended near a sink. Wood contracts and expands when exposed to moisture, which can lead to irreparable warping, discoloration, or rot. Butcher-block counters must be oiled often to fill in scratches and protect the surface, and they also need frequent disinfecting to prevent bacteria. Spills must be cleaned immediately to avoid stains. Wood counters are not heat-resistant, and extreme dryness can cause cracking, so it's important to use pads or trivets with hot pans.
Cons of Butcher Block: Prone to water damage and stains; require frequent oiling and disinfecting; not heat-resistant; can be expensive.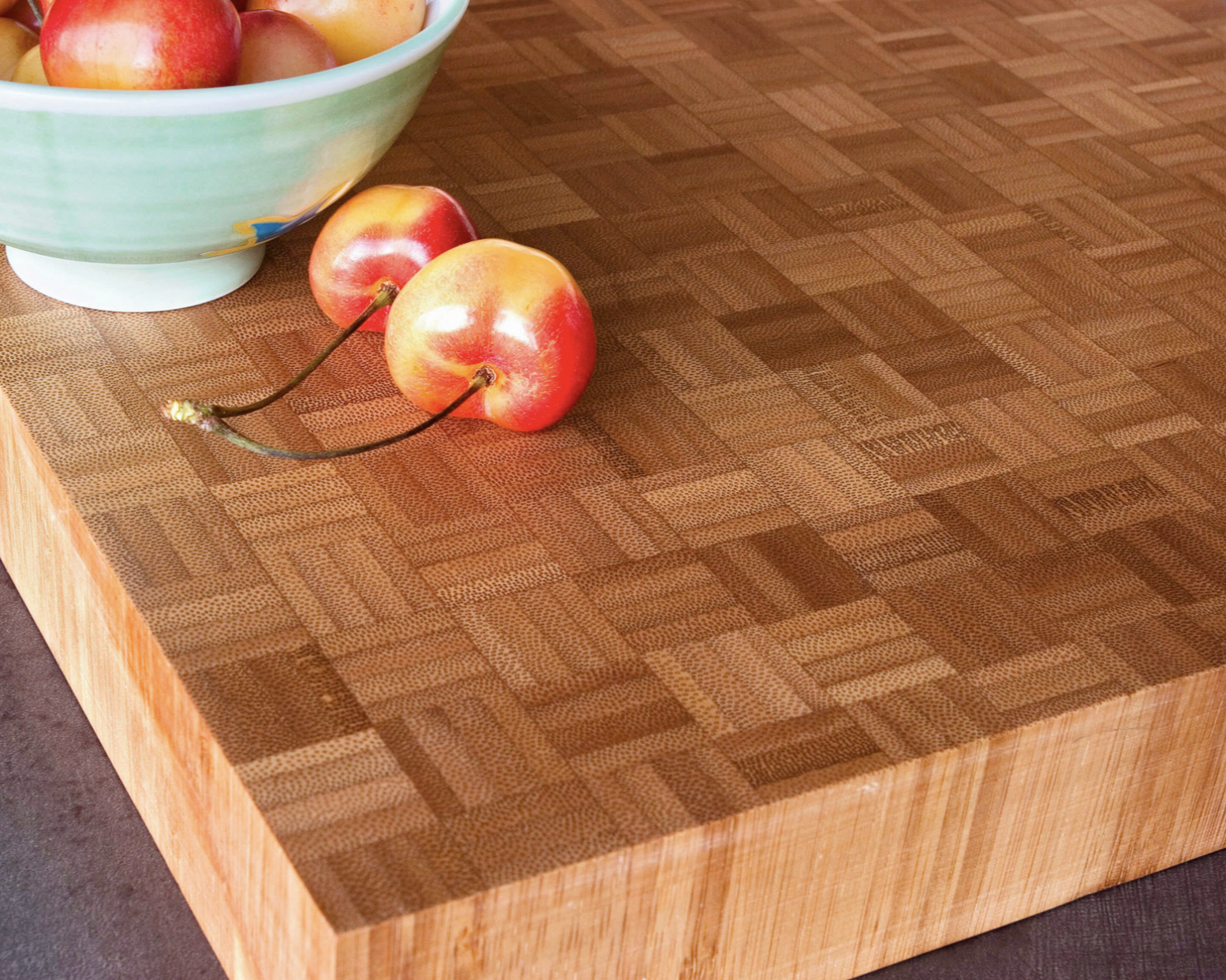 Cost of Butcher-Block Countertops
While maple countertops can be less than half the cost of natural stone, higher-quality custom butcher block can be as expensive as granite. According to data from HomeAdvisor, butcher-block countertops cost $40 to $100 per square foot on average.
Butcher-Block Maintenance and Cleaning
Maintained properly, butcher-block countertops can last a very long time. It's important to check the manufacturer's care recommendations before cleaning or repairing countertops. In general, caring for wood counters starts with routine cleaning, which is as simple as using mild soap or vinegar and water every time you use the surface. This step is also important to prevent contamination issues that can happen with porous wood.
It's also important to re-oil the counters at least every six months with food-safe mineral oil. If the counter gets chipped, scratched, or burned, lightly sand the area with fine sandpaper and then reapply oil. To get all the benefits of butcher-block countertops without the potential problems, some homeowners limit the material to a work island or other smaller surface.

In Other NEWS