By Megan Wahn, for The Atlanta Journal-Constitution
Troy Warren for CNT #HomeGarden

Nirjary Desai uses eye-catching wallpaper and pops of color to create a home with spaces that "speak to each other" while still standing out.
It just began with some repainting. As an event producer and owner of KIS (cubed) Events, Nirjary Desai had to pivot a bit during 2020, when the COVID-19 pandemic eliminated the possibility of in-person gatherings. She decided to take up styling and interior designing some of her rental properties as well as the homes of friends, and then turned her focus to her own home.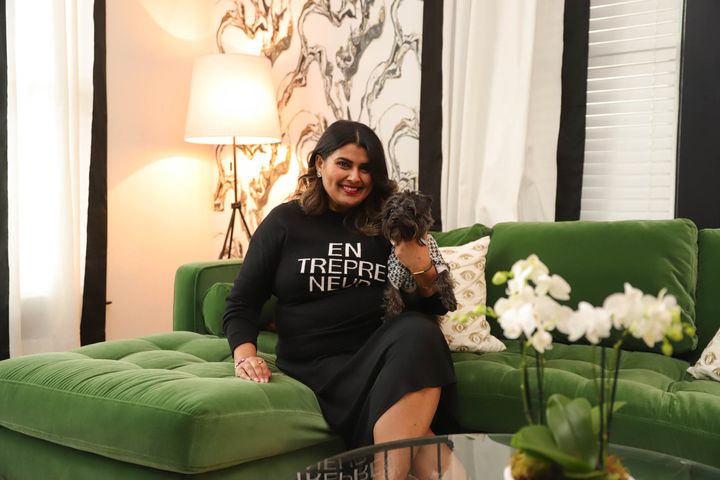 "I was like 'I'm going to do all-white walls and black trim,'" said Desai. "I knew eventually whatever I did to some of these rooms, it's probably going to be the first the place where we have our first child, and all of that kind of stuff. So let's make it what we want it to be."
Thus began her endeavor to transform her home into a place "glam" and eye-catching enough to suit her style, while also staying relatively neutral to appeal to her husband's tastes and practical enough to raise a family in. While she stuck with mostly blacks, whites, and wood tones, Desai adding a few style flairs in the form of patterned wallpaper and pops of color.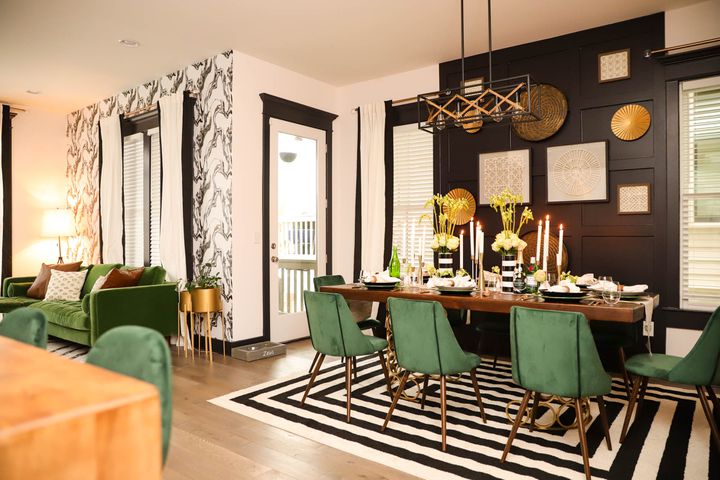 "[I] really tried [to make] the house more unisex for us, but still glam. Because that's what I do for a living," Desai said. "[My house] needs to be artistic, it needs to be fun, it needs to be inspiring. It needs to just like, feel happy when I come home."
Snapshot
Residents: Nirjary Desai, Amit Vyas, and our puppy Zeus Vyas
Location: Decatur
Size: 3,000 sq ft
Year bought: 2018
Renovations: painting
Architectural style: Single-family three-level Charleston style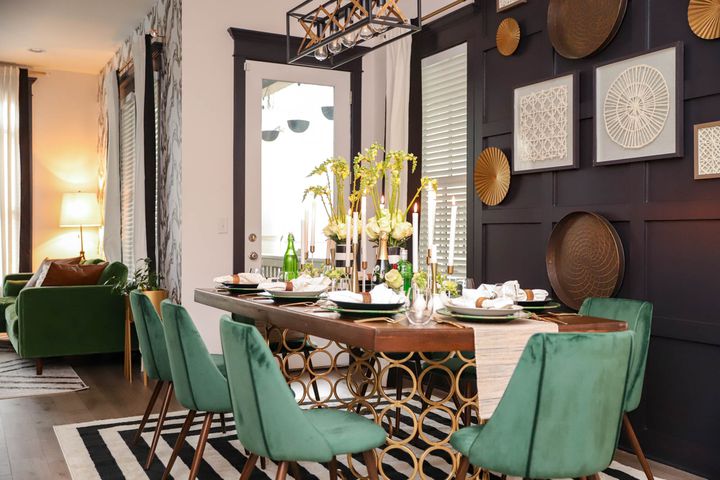 Favorite architectural elements: I love high ceilings that allow for beautiful and unique light fixtures and wallpapers/accent walls
Interior design style: Modern and rustic glam with some boho touches
Favorite interior design elements: The windows and light
Resources: Furniture and decor from Article, Wayfair, West Elm, Studio McGee, Amazon, IKEA Hack, American Signature Furniture, Homegoods, and Target.

In Other NEWS