Joshua Bowling | Arizona Republic
Troy Warren for GlendaleNewsAndTalk.Com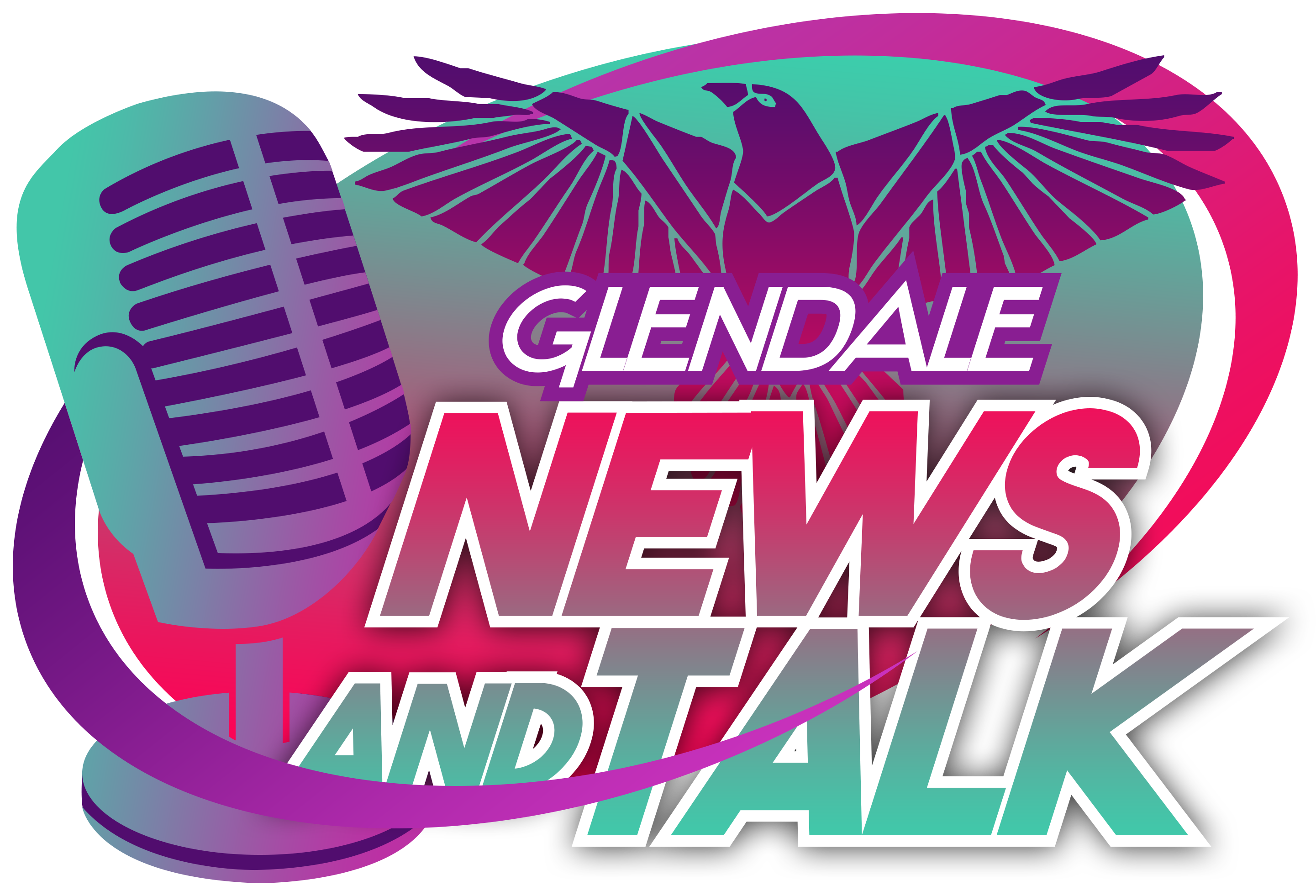 Glendale says it won't renew the lease of one of its most high-profile tenants. Now, the Arizona Coyotes' neighbors will have to wait and see if business takes a hit in the team's absence.
Glendale on Thursday announced it was cutting ties with the NHL team after the upcoming season, which starts in October. The plan is to put millions into renovations at Gila River Arena and pack it year-round with "more impactful" events.
City Manager Kevin Phelps touted the decision as a savvy financial move for the city, the entertainment district and the nearby business owners. A city-commissioned economic report shows that concertgoers tend to spend twice as much as hockey fans on retail and dining in Westgate Entertainment District.
Coyotes President and CEO Xavier Gutierrez in a statement said the decision will "primarily damage the small businesses and hard-working citizens of Glendale."
But Westgate's ownership — Arizona billionaire Bob Parsons' YAM Properties — on Friday said it supports the decision.
"The city of Glendale has been a great partner for us and we support its decisions regarding the arena," Dan Dahl, YAM Properties real estate director, said in a statement. "Westgate will continue to hold its own as a thriving entertainment hub for the West Valley."
Hotel manager 'cautiously optimistic'; bar manager calls it 'huge hit'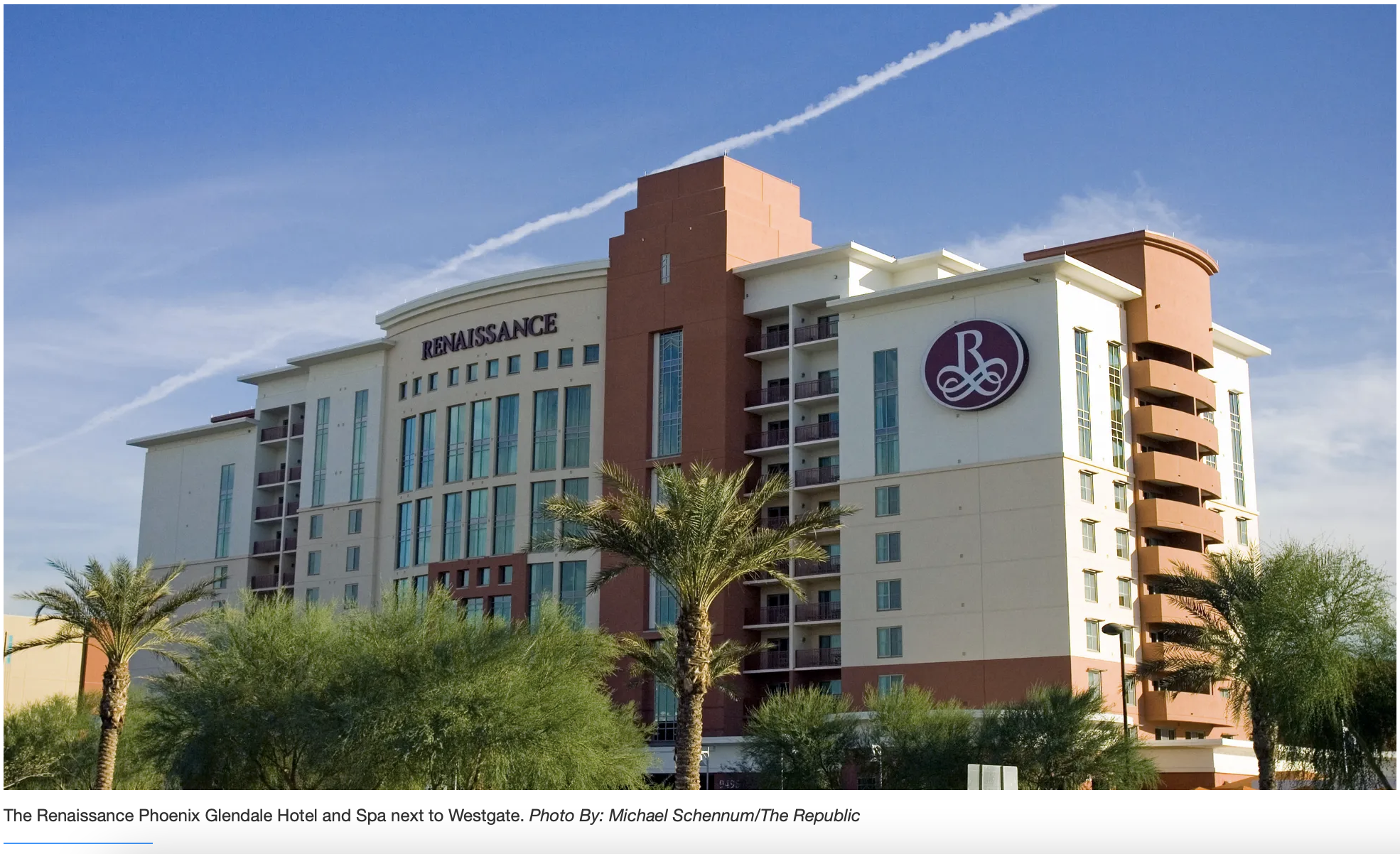 Businesses in the sports and entertainment district will see if the city's bullish economic forecast proves true.
Steve Eberhart, general manager of the Renaissance Phoenix Glendale Hotel and Spa next to Westgate, said he's "cautiously optimistic" about the city's decision.
On the whole, high-profile concerts and the like tend to bring in more hotel guests, he said. But there are many more hockey games each year — usually 40-plus — and visiting teams usually stay at Eberhart's hotel.
Making up the difference will be something of a balancing act for the city, venue and event promoters.
"We get a lot of the visiting NHL teams staying with us, so that business goes away. But the reality is, we don't get a lot of fans staying with us," he said. "Somebody comes to see their favorite band … it's a big deal. They don't mind making a weekend out of it."
Eberhart praised the city and Phelps' leadership and said he trusts this was the right decision.
Scott McIntire, who owns the Westgate bar The Lola and is a partner in McFadden's Restaurant and Saloon, said he feels good about the area's future. He said nearby businesses benefit from hockey games — but they don't need to rely on the games.
"We do brunch, dinner, nightlife, the whole thing. Sports is just kind of a bonus for us," he said. "We've kind of built our brand to be self-sustainable and not rely on events."
But Jesse Wybron, manager of State 48 Funk House Brewery at Westgate, is worried.
He's hopeful that the NFL season and forthcoming developments near Westgate, like Crystal Lagoons Island Resort or the Mattel theme park, will buoy up restaurants and shops. But he thinks no Coyotes will spell bad news for business.
People might not realize how dedicated Arizona hockey fans are, Wybron said. Customers visit the bar from as far as northern Arizona because they're in town for a Coyotes game, he said.
"It's going to definitely impact us in a negative way. Right about an hour before the game and usually right after the game ends, we get hit again," he said. "We'll still get the business from the concerts and whatnot. Concert drinking compared to gameday drinking is a little bit different — our sales are going to go down."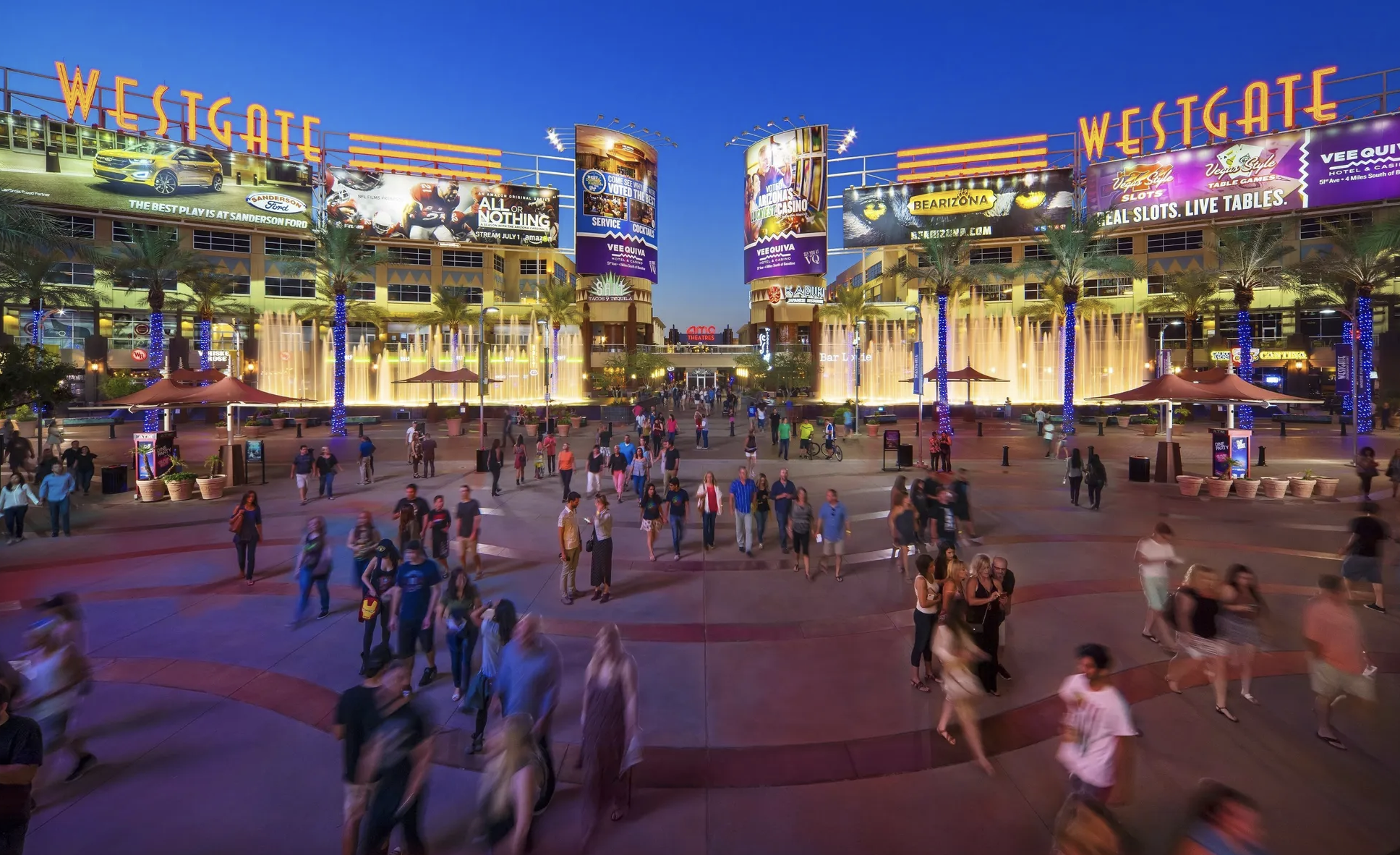 Glendale commissioned an economic report that found adding more non-hockey events should make Gila River Arena more lucrative than it has been in recent years.
It says each Coyotes game, on average, brings in $12,000 in sales and bed taxes in Westgate. Concerts, on average, more than double that at $25,000 per event.
Per capita, concertgoers spend $58 at Westgate, while hockey fans spend $28 at Westgate, the report says.
There are many more hockey games than concerts, though. The report said the arena needs an additional 20 events at the arena, with crowds of 10,000 or more, to make up the difference of the Coyotes' absence.
"The Coyotes team hosts 43 home games per season in a typical year, resulting in greater potential for retail and restaurant spending in Glendale on event days," the draft report says. "However, the large number of (hockey) events also means that fans are likely to spend less per event than concert or other event attendees, for whom the concert or other event represents an infrequent special activity."
From bankruptcy to billionaires: Coyotes and Westgate grew up together
Westgate and Gila River Arena have grown up together.
Glendale leaders 20 years ago inked a deal to bring hockey to the West Valley. The city has transformed in the two decades since then.
When the twin arena and entertainment district broke ground, it was surrounded by swaths of wide-open fields — long before the idea of dense housing, island-themed resorts and theme parks in the area would have been taken seriously.
The city borrowed $183 million to build Gila River Arena, then known as Glendale Arena and later Jobing.com Arena. It planned to pay off the arena with sales tax generated by Westgate. The city still pays about $13 million per year on the debt and has another 12 years until it's paid off.
The Arizona Republic in 2004 detailed developer Steve Ellman's plans to turn the vacant land into "a major economic engine for the city" by late 2005. Westgate didn't open until 2006.
The two have weathered tough storms together. The Coyotes in 2009 filed for bankruptcy. Westgate was foreclosed on two years later.
And both were plucked up in recent years by new billionaire owners. Arizona billionaire Bob Parsons, who founded GoDaddy, in 2018 bought Westgate for $133 million. Billionaire Alex Meruelo in 2019 scooped up a 95% ownership stake in the Coyotes.
McIntire, who has owned a business in Westgate since 2012, wasn't among the original business owners there, but he remembers a time when the area was nowhere near its current build-out.
"It's tremendous to see it grow," he said. "It's not a sports destination; it's a true entertainment destination."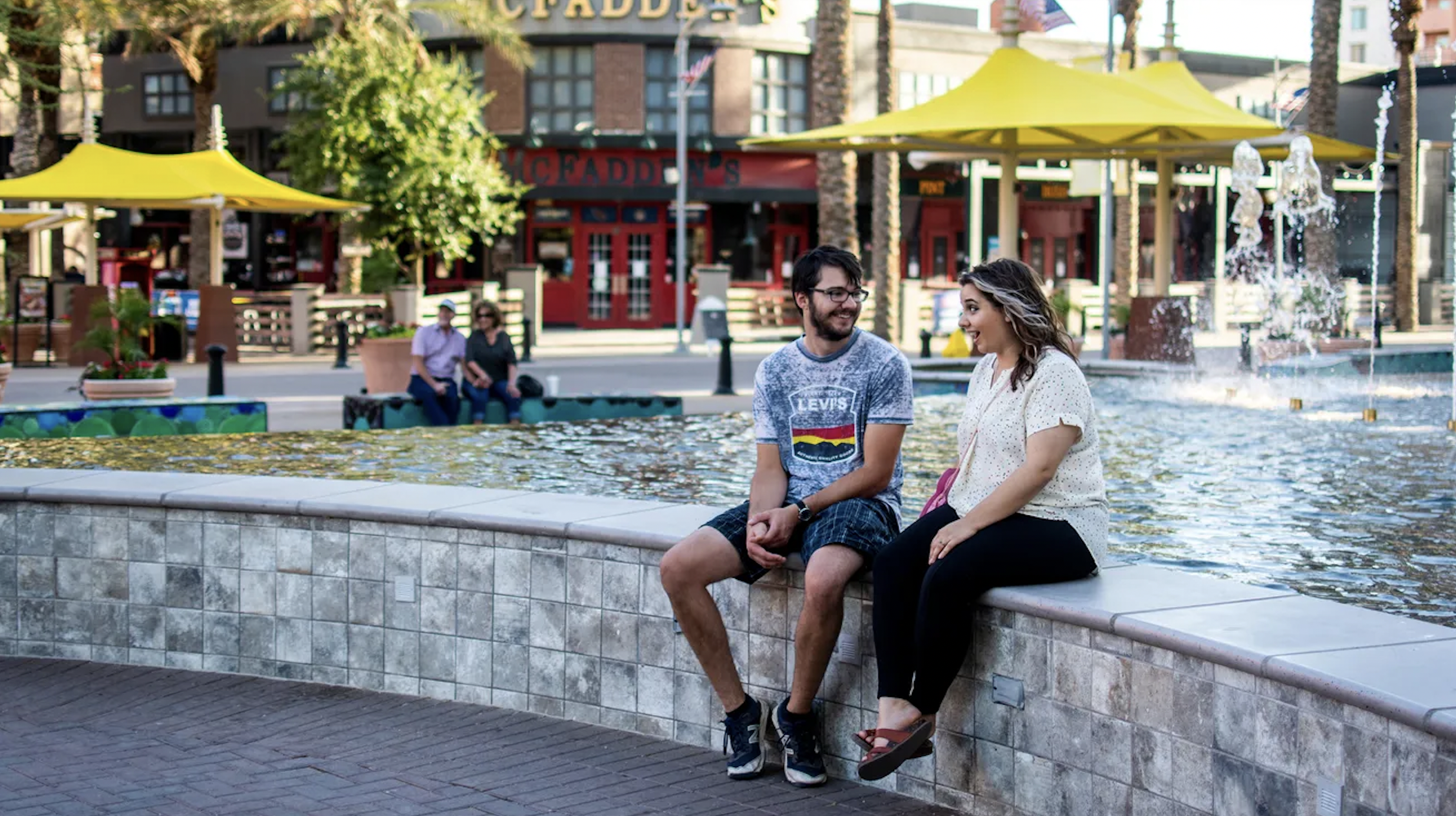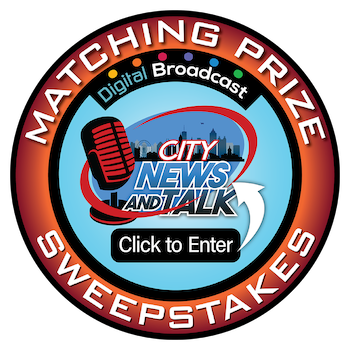 In Other NEWS