By Caitlin Sole | BHG.Com
Troy Warren for CNT #HomeGarden

Stone countertops add natural beauty and impressive durability to kitchens of every style. Our guide to stone countertops covers the price, performance, maintenance, and installation considerations of natural stone, including marble, granite, limestone, soapstone, and more.
There are few materials better suited for daily food prep, cooking, and entertaining than stone. Natural stone is nearly indestructible, virtually maintenance-free, and has a timeless quality that integrates well with any kitchen. One more plus: Each slab of stone is unique.
Granite is one of the most popular stone countertop materials thanks to its array of colors and patterns. Marble's patina and cold surface is the darling of bakers and professional cooks, while other stones such as soapstone and slate have become trendy, as well. Quartz, an engineered stone that can be customized to mimic the look of natural stone, is another popular option thanks to its durability. Stone can be honed to a matte finish or polished to high-gloss. Both finishes require a little TLC but nothing major in regard to maintenance. Read on for the price, maintenance, and performance of each stone countertop material.
Types of Stone Countertops
There is a wide variety of natural stone and engineered stone countertop materials. Here are some of the most popular.
Granite: This natural stone is known for its supreme durability; it is highly resistant to heat, acids, and scratches. Plus, granite comes in hundreds of colors and varieties. It features a speckled appearance that helps conceal seams and a smooth, polished surface that adds luxury.
Limestone: Less popular than granite and marble, limestone requires regular upkeep thanks to its porous nature. It easily absorbs liquids and stains, especially acidic ingredients, and needs to be sealed yearly. Limestone comes in lighter shades, including grays, beiges, yellows, greens, and browns.

Marble: Marble is a high-demand stone countertop material, thanks to its stylish patterns and luxurious veining. It comes in a wide variety of colors and patterns and can be polished or honed. However, marble is porous, so it's susceptible to stains if not sealed every few months.
Quartzite: Less common than most countertop materials, quartzite is a naturally occurring stone that's growing in popularity. Sometimes confused with quartz, which is engineered, quartzite countertops feature swirling patterns that resemble marble and a polished surface. Quartzite stands up well to scratches and stains.
Quartz (Engineered Stone): Although not a natural stone, quartz is a popular engineered stone that is extremely durable, impervious to chips and scratches, and stain-resistant. Made with resin, quartz countertops can easily be customized to fit your countertop design and color palette. Many varieties mimic the look of real stone, like marble, without the upkeep.
Slate: Slate is one of few stone countertop materials that is nonporous. This makes it easy to clean, and slate countertops do not require sealing. They are highly stain- and heat-resistant. However, color options are comparatively limited and corners and edges are prone to chipping.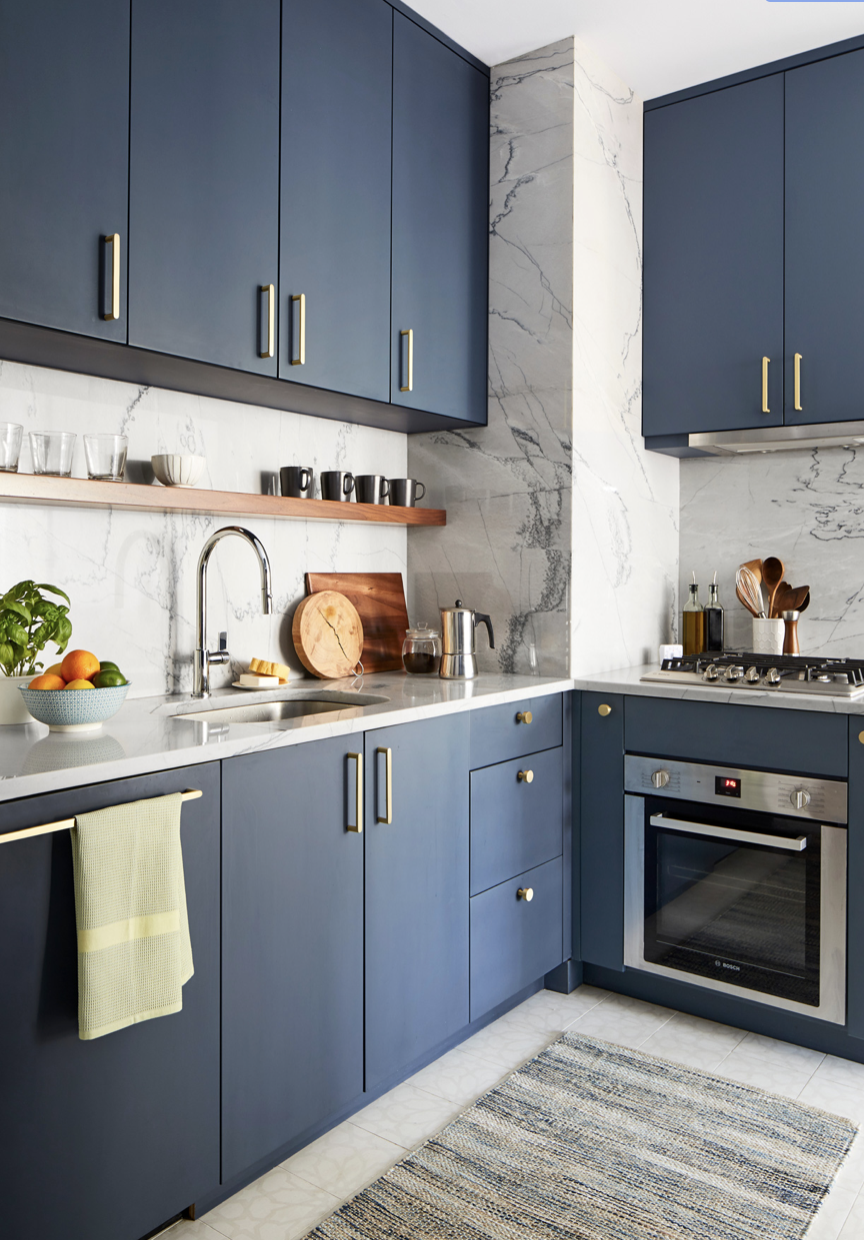 Soapstone: This natural stone is a metamorphic rock that comes in shades of gray, blue, and black. Most contain talc, which gives it a milky appearance. Soapstone is stain- and acid-resistant, and stands up to heat. Soapstone does not need to be sealed like many other stone countertop materials. Because it is a fairly soft material, soapstone can be scratched or chipped if not careful.
Travertine: Made from limestone, travertine is typically reserved for lower-traffic areas of the home, as it is highly reactive to acids and prone to staining. Because it is porous, it is also at risk of scratching.
Performance and Maintenance of Natural Stone
Unlike synthetic countertop materials, natural stone can withstand hot temperatures. Only on a very rare occasion will heat blemish a stone surface; still, always err on the side of caution.
However, most stone countertops are prone to scratches. High-gloss finishes might require yearly treatments with a special polish; matte or honed finishes should be rubbed with mineral oil as needed to remove marks and scratches. For routine cleaning, use a mild detergent and water to clean stone countertops.
Granite outperforms almost every other surface material. Smooth as glass, granite makes for easy cleanup. It is waterproof, heat-resistant, and low maintenance. Slate is impervious to water, heat, and stains. Marble, especially lighter tones, can show wear, and if you spill something dark such as red wine, it's likely to stain the surface. Over time, these imperfections will eventually blend into a rich patina.
Installation Price and Process
Most stone countertops require professional installation. According to HomeAdvisor, installation for stone countertops ranges from $1,100 to $5,500, depending on the material. While it's possible to reduce the price of stone countertops by installing them yourself, this is not recommended for the average DIYer. Stone slabs are extremely heavy and require solid, reinforced cabinetry for support.
Price of Stone Countertops
Stone is an expensive countertop material, but there are several variables that cause fluctuations in cost. The stone's origin plays a big part in its cost since different parts of the world produce different stones and some are simply more desirable, either for color or pattern, by the consumer market. Thickness can cause the price of stone to rise, and when oil and gas prices increase, so does the price of stone due to its transportation from the quarry.
While prices range from about $10 to $200 per square foot, on average you can expect to pay about $45 and more per square foot for stone countertops. Watch for sales at home improvement centers; there are times when they offer certain granites for as low as $25 per square foot.
Like the look of stone slabs but have sticker shock from the price? Consider stone tiles. If you don't mind the grid created by grout lines, tiles are an option for a fraction of the price.

In Other NEWS