By Southern Living Editors
Troy Warren for CNT #HomeGarden

Prepare to be dazzled!
If you've always believed that sunflowers only sprouted up in buttery yellows and vibrant golds, think again. Although the common sunflower, scientifically known as the Helianthus annus, typically does have bright yellow rays circling a rich brown center comprised of tiny disks, there are several other varieties of the sunflower that bloom in a brilliant assortment of colors, including creamy white and terracotta red. We're especially enamored by Chocolate Sunflowers, which, as the name suggests, have such deep red petals that they appear brown. Here's where to buy Chocolate Sunflower seeds and what to know about them.
Beyond being a beautiful addition to a backyard garden, sunflowers are heat tolerant and resistant to pests, notes the Old Farmer's Almanac, making them a sturdy (and sensational) choice for Southern gardeners. Sunflowers should be planted after the soil has warmed to at least 50 degrees Fahrenheit and the risk of spring frosts have passed. In the South, notes the Old Farmer's Almanac, this should happen around mid-March or April. The flowers typically mature within 80 to 95 days, meaning your garden will bloom into glorious color in mid to late summer or early fall, depending on when you plant them.

While they may seem like a rarity, Chocolate Sunflower seeds are easy to find and fairly affordable; you can score a twin pack of 40-seed packets on Amazon for less than $9. Per the seeds' listing, the annual flower will grow to be four to six inches across and between 4 to 5 feet tall. It also notes that they'll "grow quickly, bloom profusely through the summer months, and later die with the first killing frost." While you can plant a garden full of just the Chocolate Sunflowers, we especially love them as show-stopping border flowers or planted amongst other sunflower varieties to provide a dramatic burst of contrasting color.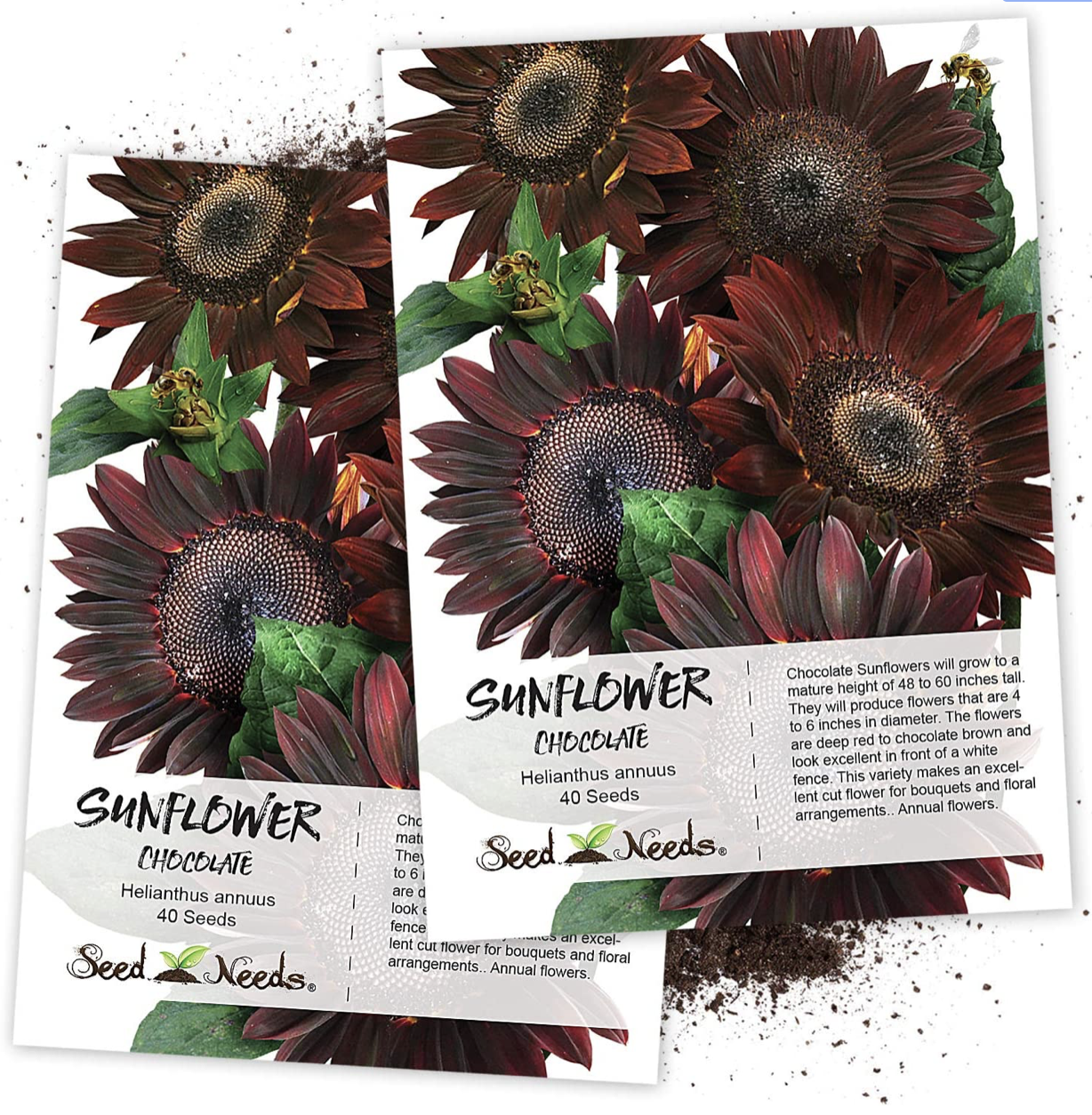 Buy It: Chocolate Sunflower Seeds ($9, Amazon)
And don't just take it from us. One Amazon reviewer writes: "These Sunflowers are amazing and very dramatic looking in the garden. Mine are over 5 ft. tall and still growing. They're also a beautiful deep red-brown color." She also offered some sage advice to folks struggling to see results: "For those people who had trouble with the seeds sprouting, I would suggest soaking the seeds in warm water for 8 to 12 hours before planting. I had some seeds that did not come up. Soaking the seeds seemed to soften the shell; I had better luck after doing that."
Regardless of your gardening prowess, planting Chocolate Sunflowers is a project worth trying this season. You'll have access to gorgeous cut flowers all summer long, and your neighbors will thank you for the pretty view!

In Other NEWS