By Rodney Ho, The Atlanta Journal-Constitution
Troy Warren for AtlantaNewsAndTalk.Com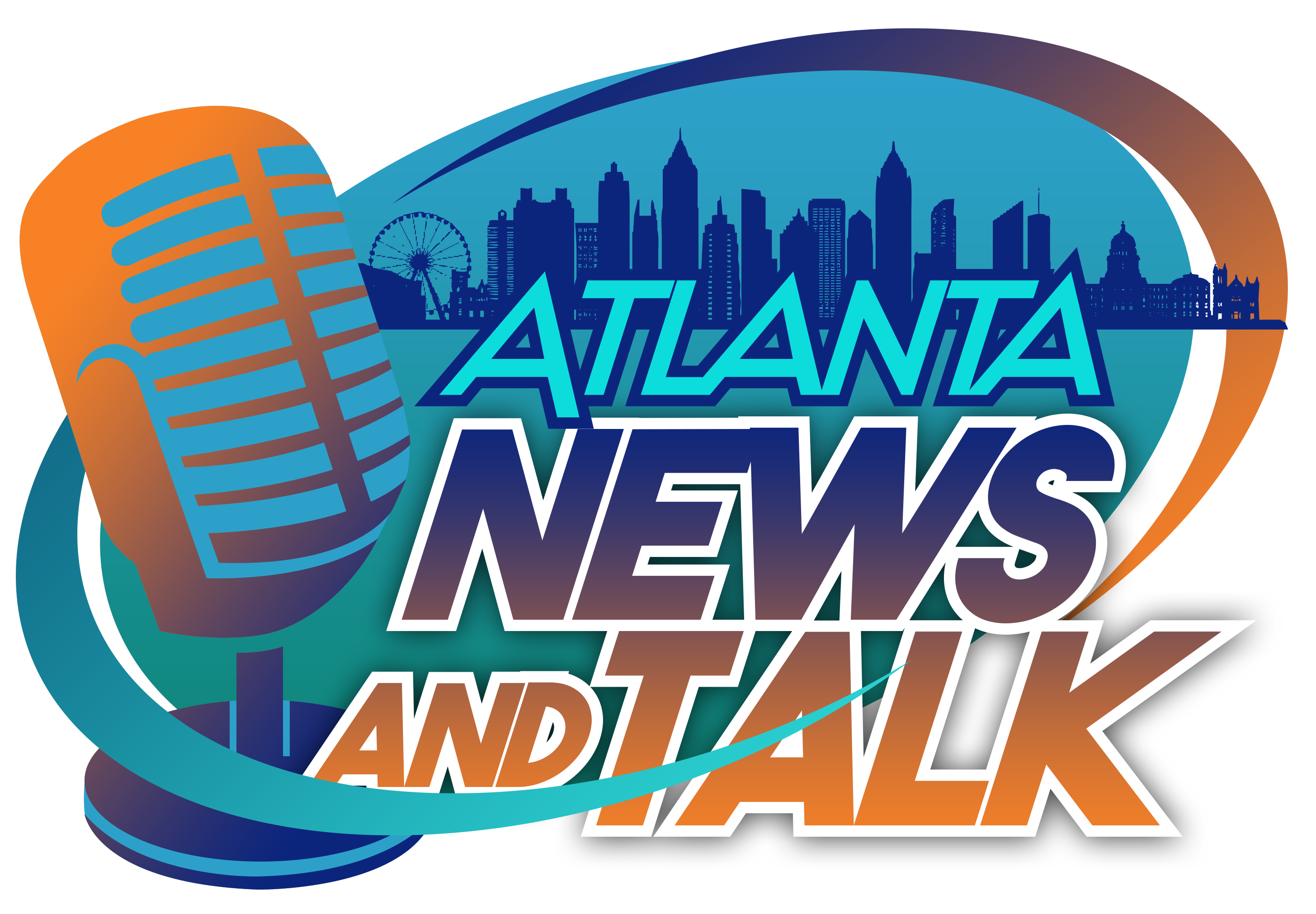 The award-winning evening anchor had brain tumor surgery in April.
Channel 2 Action News anchor Jovita Moore has an aggressive form of brain cancer, WSB-TV reported during its 4 p.m. newscast Thursday.
Moore ― who has been with WSB-TV since 1998 and has won numerous Emmy awards ― had brain surgery in April after doctors discovered tumors. At the time, doctors had hoped she could be back on air in eight to 10 weeks, assuming no serious complications.
But pathologists discovered Moore had glioblastoma, a serious form of cancer.
"It's not something I can cure with surgery alone," Emory University School of Medicine associate professor and neurosurgeon Edjah Nduom told Moore's co-anchor Justin Farmer during the 4 p.m. newscast Thursday. "The reason for that is gliomas and glioblastoma in particular have these tentacles that go beyond the lesion we can see on a scan and beyond what we can even see with our operating microscopes."
She is undergoing radiation and chemotherapy in an effort to slow the cancer's growth, Farmer said.
"She's done fantastic" under the circumstances, Nduom said. "I was able to see her in clinic a couple of weeks ago. She was in good spirits. She was with friends and family."
He said her healthy lifestyle and support system is helping her through this ordeal.
"She's a very strong woman and is raising three very strong kids who are, we all are, right there with them," said Condace Pressley, a friend and WSB-TV director of community affairs.
Nduom said glioblastoma is not hereditary and has nothing to do with a patient's diet or lifestyle.
Moore herself did not want to be on camera but sent an audio message to the station for the public to hear.
"I just want to say a quick thank you," she said. "Thank you for your cards, thank you for all the gifts, and most importantly, thank you for your prayers and positive energy. I feel all of it. I'm home now, I'm up and about and doing everything my doctors tell me to do. So for now, I need to be here to focus on my health. I'm surrounded by my family, a very small circle of friends, but also your extended love and support. This journey for me started with an unusual headache so if something's not right with you, I urge you to please get yourself checked."
Glioblastoma, according to the Mayo Clinic website, "can be very difficult to treat and a cure is often not possible. Treatments may slow progression of the cancer and reduce signs and symptoms."
The Glioblastoma Foundation, which promotes efforts to develop better drug therapies for the disease, said "the median survival of a person diagnosed with glioblastoma is about 15 months."
Moore, 53, has been a primary evening anchor since Monica Pearson retired in 2012, a smooth transition that helped the station remain a top-rated news operation in Atlanta.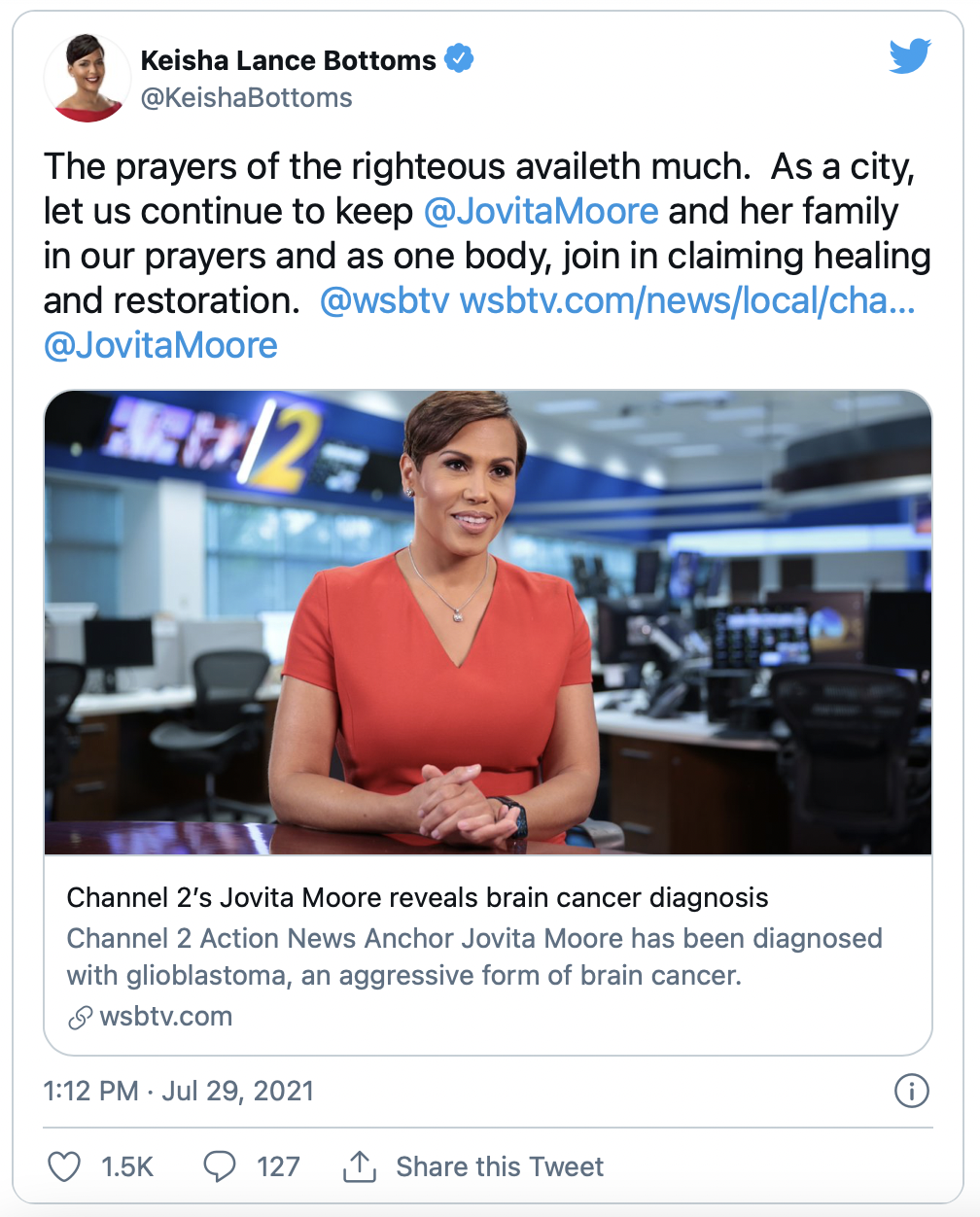 Atlanta Mayor Keisha Lance Bottoms, moments after the news came out, posted on Twitter: "The prayers of the righteous availeth much. As a city, let us continue to keep @JovitaMoore and her family in our prayers and as one body, join in claiming healing and restoration."
The station said people can leave a note online on the WSB-TV website or send cards to Moore at the station address: 1601 W. Peachtree St. NE, Atlanta, Ga. 30309. She has also asked for concerned viewers to donate to two charities: Our House, a charity that addresses homelessness, and National Brain Tumor Society.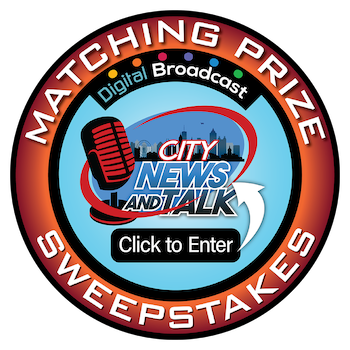 In Other NEWS