By Ty Tagami – The Atlanta Journal-Constitution – Alia Malik – The Atlanta Journal-Constitution
Troy Warren for AtlantaNewsAndTalk.Com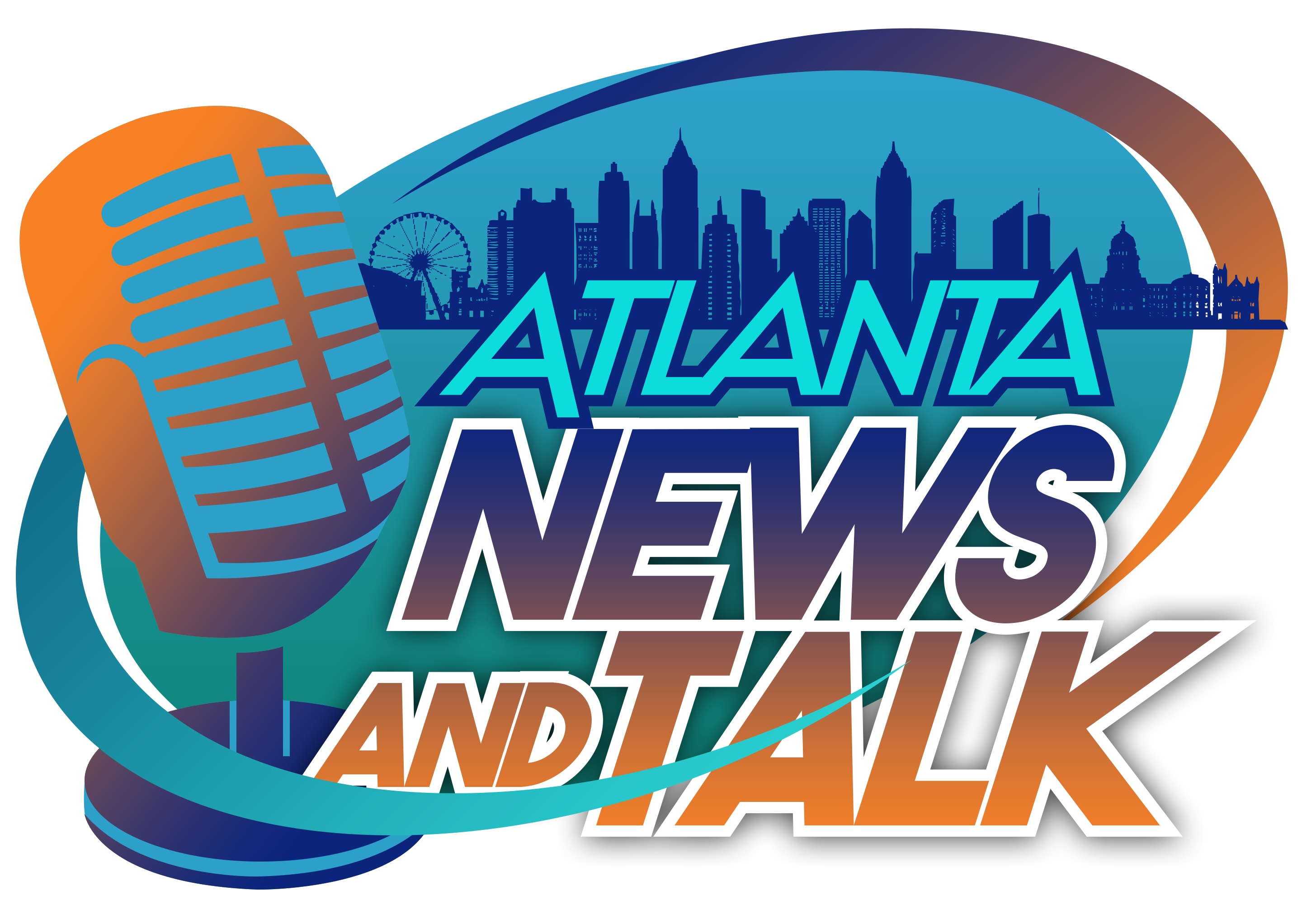 Serene Varghese caught COVID-19 from her 10-year-old daughter, who tested positive soon after returning to Burgess-Peterson Academy in East Atlanta.
Varghese, who is vaccinated, got the worst sore throat of her life, and her head ached so blindingly she nearly vomited. She had fatigue, chills and her chest burned. She had to show her quarantining 7-year-old how to microwave his hot dogs and feed the cats and gerbils. With no real-time virtual lessons, he played Minecraft all day.
"My biggest fear is that we're going to keep having to do this again and again and again," she said.
Like many vaccinated parents, Varghese is feeling vulnerable as the coronavirus targets their unvaccinated children.
The Georgia Department of Public Health reported in mid-September that 60% of the state's recent outbreaks had occurred in schools. Fourteen Atlanta-area school districts recorded nearly 32,000 COVID-19 cases since classes began last month. But new cases began to decline this month.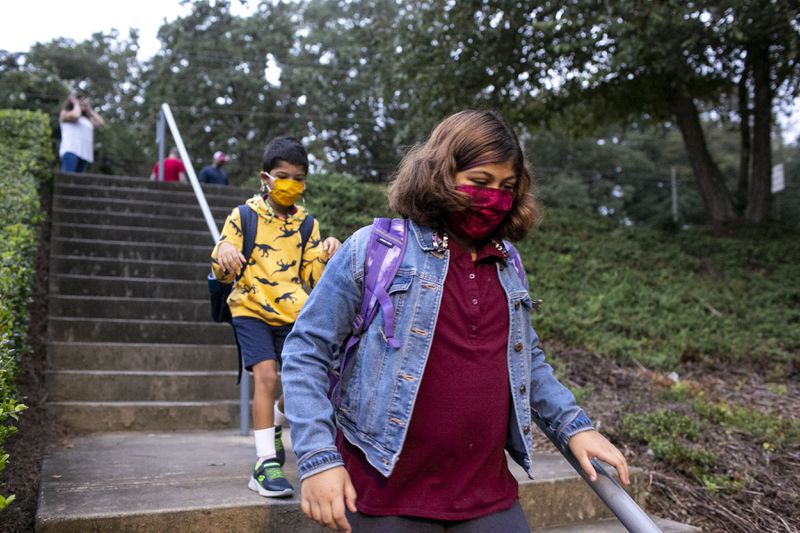 Vaccination rates remain low among those aged 12-17. Younger students — about half of the school-aged population — are not yet authorized for the shots. Disagreements about the threat level and the necessary response — mainly whether to require masks — remain divisive.
Many school districts, including some in metro Atlanta, "strongly encourage" masks but do not require them.
Meanwhile, COVID-19 has upended expectations for a normal school year, as outbreaks have forced students back home, disrupting their educations and spreading the disease into households. The response from area school districts has been mixed, with parents complaining of vague protocols from leaders when cases arise in their schools. Others have applauded their school leaders for doing their best to ensure students' needs are met throughout the disruptions.
All are hopeful for improvement.
Last week Pfizer and BioNTech announced their vaccine for this vulnerable group, aged 5 to 11, was safe to use, which could lead to federal authorization — and peace of mind for many parents now fearing for their children's safety.
Kids in quarantine
In Cobb County, two of Carianne Muse's three children have cochlear implants, which her doctor told her may put them at higher risk for complications from COVID-19 infection.
They studied online last year. Sending them into the classroom last month was "very nerve-wracking," Muse said, in part because the Cobb County School District is not requiring masks.
She feared most for her son, who is too young for the vaccine. He attends third grade at East Side Elementary School, where rampant infections led to the temporary shutdown of fifth grade. Then, his oldest sister came down with COVID-19, perhaps catching it from a friend in high school.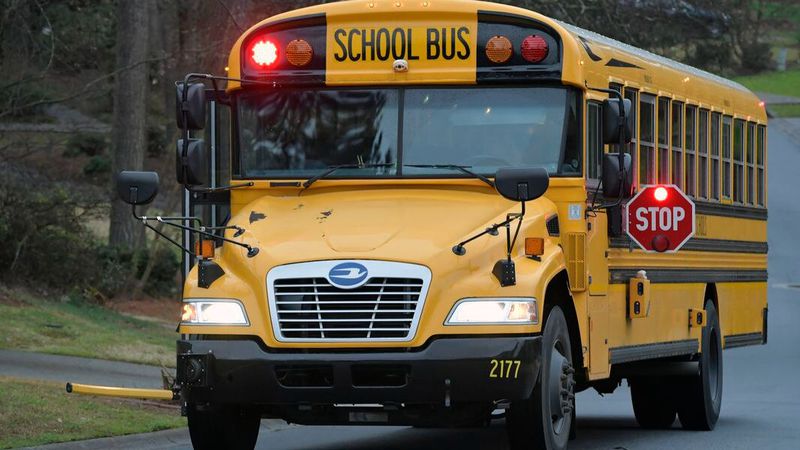 All three stayed home from school while quarantining. The two youngest need special education services for hearing loss. Muse said they have not been getting it and are falling behind. "They're at home for days on end without instruction," she said.
The district's special education team monitors students in quarantine and tailors services to best support their needs, a district spokesperson said in a statement. "No matter the learning environment, Cobb educators will continue to provide the support each student requires," the statement said.
In Fulton County, Renzo Freitas is already resigned to another bumpy school year. He thinks the school system is doing the best it can to cope with COVID-19. School leaders require masks, and they communicate about new infections and the resulting need to quarantine.
Still, his daughter caught COVID-19 soon after school started, and missed two weeks. Then, her entire first grade class was sent home for a week after an outbreak.
She had been back for just two days. Both parents had to adjust their work schedules to help her with her studies while she was home.
Freitas said he is trying to stay positive and thinks things will be all right: "Do I think it's going to suck for the rest of the year? Yeah, I'm totally expecting it, which probably helps."
Outbreaks in school
There were more than 100 school outbreaks by mid-September, according to state health officials.
Are schools accelerating community infection rates?
"We know the Delta variant, which accounts for nearly all COVID in Georgia at this time, is highly contagious," agency spokeswoman Nancy Nydam wrote in an email to The Atlanta Journal-Constitution in response to that question. "So, when COVID gets into a certain setting, be it schools, households, workplaces, or others, it is very difficult to stop the spread of the virus without strong, layered mitigation strategies."
The Centers for Disease Control and Prevention and the American Academy of Pediatrics are recommending the universal wearing of masks in schools.
Some school systems, including the Cherokee County School District, do not require them.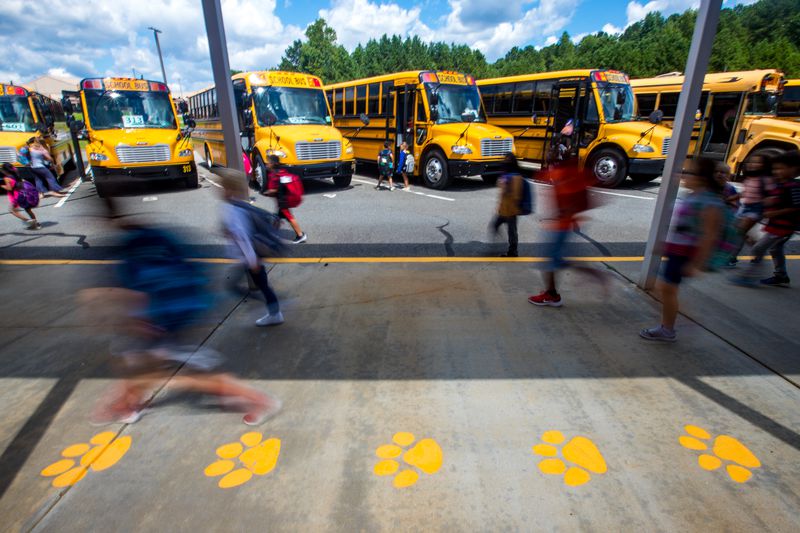 In late August, Tara Sieger got a letter from Cherokee saying her son, among the few in his school who does wear one, had been exposed to COVID-19.
He told her the girl next to him in his fifth grade classroom couldn't taste her snacks. She was absent the next day, he told his mom. That evening, he got a fever and a headache, symptoms that spread to his little sister the day after. The children and their dad, who is vaccinated, would soon test positive for COVID-19. Soon after they recovered, Sieger herself tested positive, right after throwing a birthday party for her daughter that was attended by all four grandparents. (They were vaccinated and none of them was infected.)
The first day Sieger's son was absent, the school nurse asked Sieger what she would do if his COVID-19 test result was positive.
"I said, 'What do you mean, what am I going to do?' I said, 'I'm going to keep him home,'" Sieger recalled, adding that the nurse supported the decision as if it were not required.
Infected students and staff are expected to stay home per state guidelines, according to Cherokee County schools guidelines.
"We are furious because our son is immunocompromised," Sieger said. "They don't require any sort of quarantine time for close contacts because obviously they're not even tracking close contacts."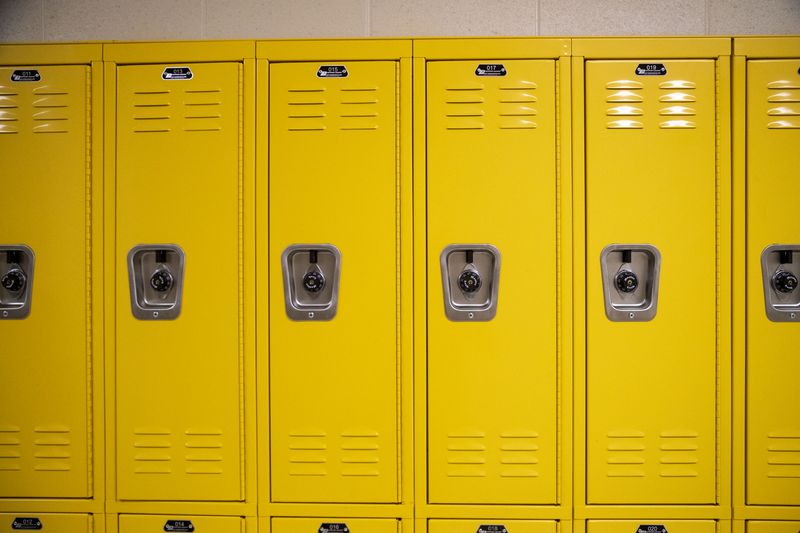 Cherokee schools spokeswoman Barbara Jacoby said the state is not requiring schools to investigate who may have been exposed to infected people. "We have returned the responsibility for contact tracing and issuing mandated quarantines to the Georgia Department of Public Health," she wrote in an email to the AJC.
She said the district informs DPH about every known infection and alerts parents if it involved their child's class, bus or team.
DPH advises that unvaccinated close contacts of infected people quarantine for at least a week.
Samia Landers in Carroll County, with a newborn and two other kids too young for vaccination, also feels like her school isn't aggressive about corralling infections.
The only reason she knew her daughter's second grade teacher had come to school with COVID-19 was because the teacher disclosed it to parents on the classroom messaging platform.
Fearing for her baby, in a school where she says her daughter is an exception for wearing a mask, Landers kept her daughter home the next school day. But others did not. Soon, members of the family across the street, with a child in the classroom, took ill, Landers said, adding that she and her daughter watched an ambulance take the child's grandfather away.
He's back now, but the whole family has COVID-19, she said, adding that she has talked with the grandfather's wife about it. "The wife was very upset that the kids were exposed, but I think a lot of the parents' main concern is that the school system didn't contact us."
Landers used social media to connect with other families from that classroom and heard that other students had also contracted COVID-19 after the teacher came in ill.
Sarah Jefferson's son was one of them.
The Monday after the teacher revealed her diagnosis on a recent weekend, Jefferson called the school and said she was quarantining her son and his sister. She said the nurse told her the school wasn't contact tracing and couldn't share information about teachers' health because of a federal medical privacy law.
"She asked me when he was exposed and I said 'I don't know, why don't you tell me?'"
The next day, Jefferson's son had a fever, and soon tested positive for COVID-19. She said she and her husband are vaccinated and have "been living under a rock," so she's sure he was infected by the teacher. "We isolate as best we can, so he couldn't have gotten it anywhere else."
The Carroll County School System alerts parents about classroom exposures "typically" on the day officials learn of the infection, a spokeswoman said in an email, that did not address this specific incident.
Symptomatic teachers are supposed to alert the school and stay home, the spokeswoman, Charity Aaron, wrote. They are to return only after a negative COVID-19 test, a "non-contagious" doctor's diagnosis or "improved" symptoms.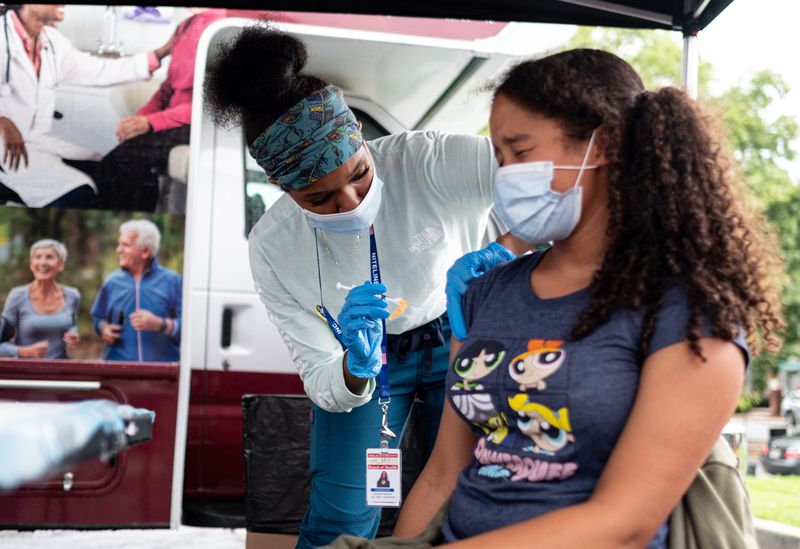 Many of the parents who come to Dr. Nicola Chin, a Morehouse Healthcare pediatrician, worry about sending their unvaccinated children to school.
"All of the community physicians are inundated with this concern," she said.
The vaccine effect
Some parents have had a better experience.
Rebecca Miller, who works in public health, is confident in the protocols in her daughter's elementary school in DeKalb County. After more than a month of school there'd been no outbreaks. Quarantine alerts were clear and timely and, importantly, there were none affecting her. Her daughter hadn't had to miss school.
Masks are required, but Miller thinks her Dunwoody community has something more fundamental going for it.
"We have really good vaccination rates," she said.
State records indicate that 6 of 10 residents in the census tract around her daughter's school were fully vaccinated by mid-September.
To the north in Cherokee County, vaccination has been less popular, with fewer than half the residents fully vaccinated. Add one person to the list though: Destiny Moss. She was unvaccinated by the time school started in early August because she feared an allergic reaction and she thought she had already had COVID-19.
But the illness she had previously was nothing like what she experienced a couple weeks into this school year, after two of her children, in second and fourth grade, came home feeling ill.
"Unfortunately, one of the children bought COVID-19 home to me," Moss said. "I couldn't breathe. I mean it was horrible."
Her husband is vaccinated and the family has been wearing masks in public, though she's given up trying to make the kids wear them at school. They routinely lost them.
She plans to get vaccinated — as soon as she has fully recovered.
Quarantine rules for Georgia schools
Under an Aug. 2 order from the state health commissioner:
"Severely" immunocompromised infected people and those with "severe or critical" COVID-19 – at least 20 days of isolation AND until 24 hours after symptoms have improved
"Mild or moderate" cases and healthy immune symptoms – 10 days of isolation
Unvaccinated close contacts – quarantine 10-14 days from exposure; can be shortened to seven days with a negative COVID-19 test
Vaccinated close contacts – quarantine not required if no symptoms, but should wear a mask indoors for 14 days or until testing negative for COVID-19 at least three days after exposure
The order gives districts flexibility in setting their quarantine requirements. Updated guidance on Aug. 19 also "strongly recommends" requiring students to wear masks when letting them quarantine in school after exposure to COVID-19.
Source: Georgia Department of Public Health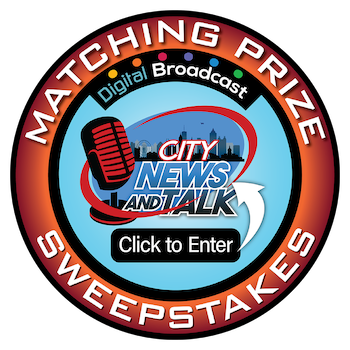 In Other NEWS