By Jelisa Castrodale | FoodAndWine.Com
Troy Warren for CNT #Foodie

The Girl Scouts of America are teaming up with the delivery platform in a new partnership.
There may not be a better combination of words than "the start of Girl Scout cookie season," other than maybe "your Girl Scout cookie order is here." The Girl Scouts of America kicked off the 2022 cookie season on Tuesday, and this year, it'll be easier than ever to get your annual Thin Mint fix.
In a press release, the Scouts said that, depending on "local data and mandates," those iconic in-person cookie booths may be back, but online ordering will still be available too. And in addition to their hybrid sales approach, Girl Scout cookies will be available for delivery through the DoorDash app. That's right, you can have Trefoils and Tagalongs brought (almost) directly to your couch. You can also use the app to arrange a pickup from a local cookie booth.
"As a Girl Scout Cookie lover myself, I am so excited to welcome Girl Scouts of the USA to our platform, providing a fast and convenient option for customers to access beloved Girl Scout Cookies on-demand, while empowering Girl Scouts to meaningfully grow their cookie businesses," Shanna Prevé, DoorDash's VP of strategic partnerships and business development, said. "Through this collaboration, we aim to provide access and opportunity for Girl Scouts, while providing their neighborhoods with safe, efficient, and enjoyable ways to support their local troops."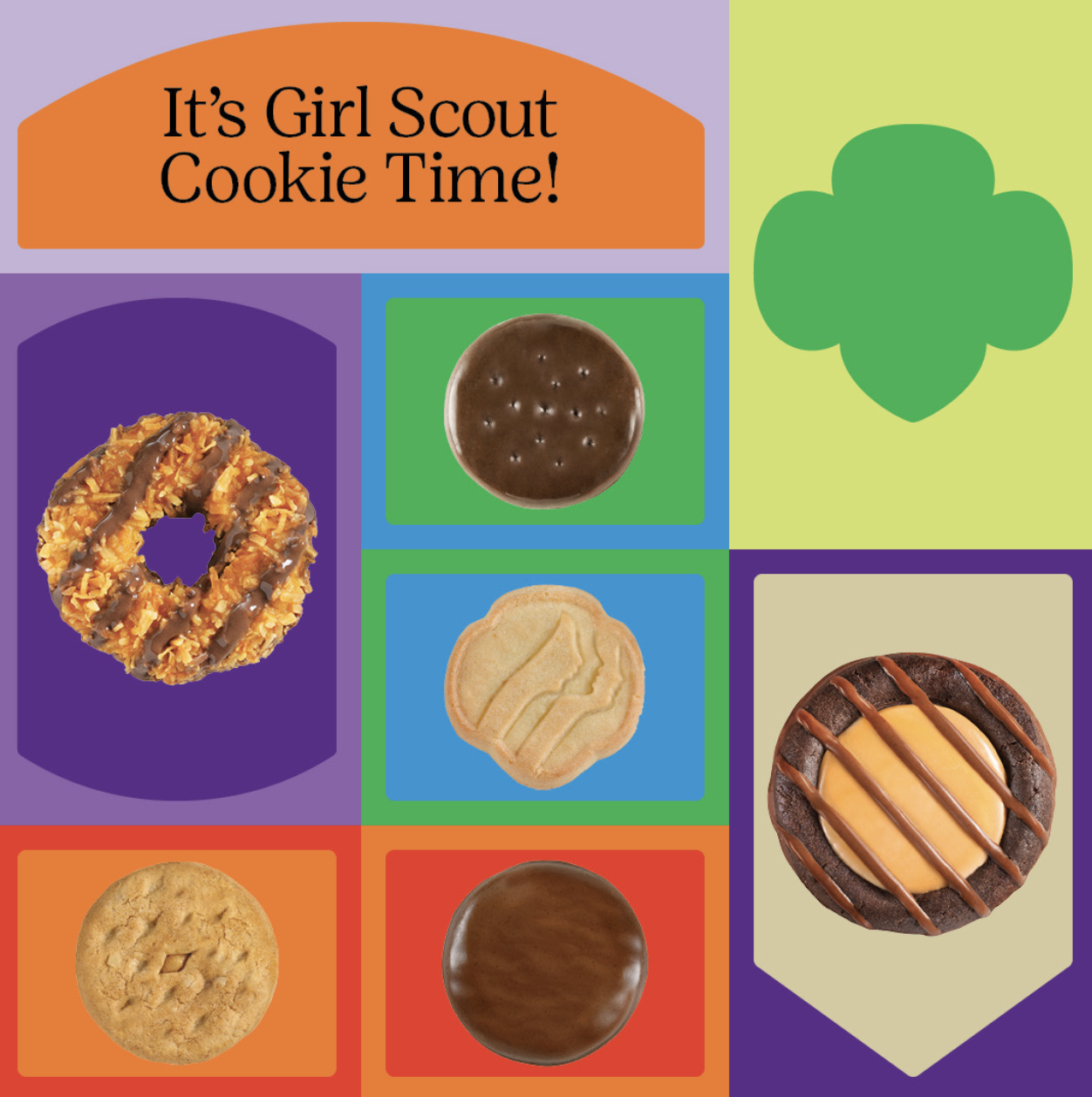 The Girl Scouts also want you to know that there are several ways to connect with your local Scout troop to buy cookies this year. For starters, they advise reaching out to any registered Girl Scouts you know "to find out how she's selling cookies in ways that meet local and state safety protocols." You can also text the word "COOKIES" to 59618 to receive a link to find cookie sellers in your area. (I did this immediately and was presented with a list of local cookie booth locations, as well as the dates when they'll be selling.) There's also the online Girl Scout Cookie Finder which will give you the same info based on your ZIP code.

And, finally, by visiting either DoorDash.com or launching the DoorDash app, you can search for "Girl Scouts" to find out whether on-demand delivery is available in your area. The Girl Scouts say that DoorDash ordering will be rolled out to "select areas" later this month, with wider availability beginning in February.
There are 12 cookie flavors available this year, including all of your old favorites and newer treats like the French toast-flavored Toast-Yay cookies and always crispy Lemon-Ups. There's also a brand new cookie for 2022: the just-added Adventurefuls are described as "an indulgent brownie-inspired cookie with caramel-flavored crème and a hint of sea salt."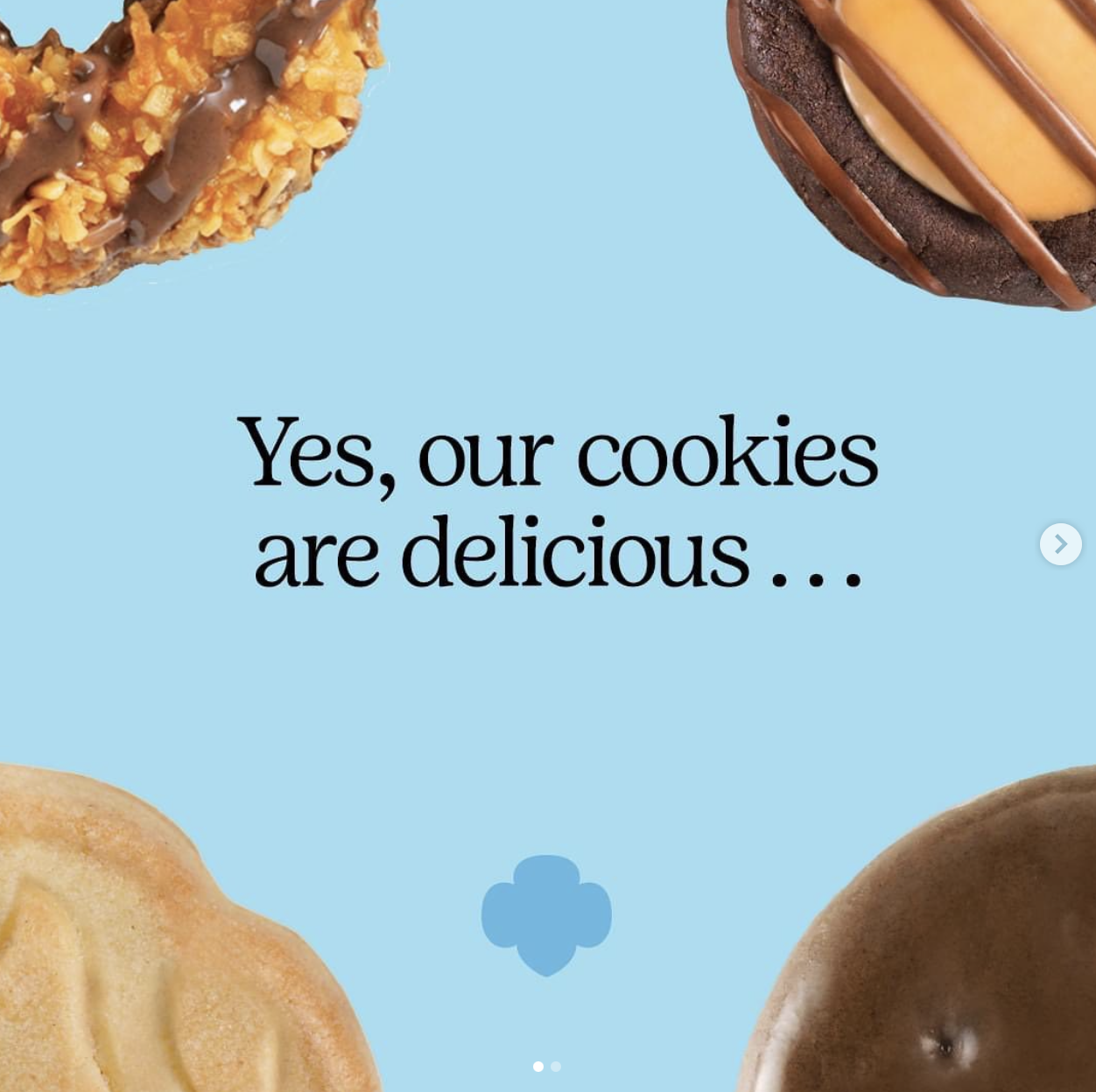 "In 2021, Girl Scouts created new ways to be successful in their cookie businesses so they could continue to use their cookie funds to power experiences like camp, troop activities, and service projects in their communities," Judith Batty, the interim CEO of the Girl Scouts of the USA, said. "We are inspired by the resilience and ingenuity of Girl Scouts and cannot wait to see the girl-led innovations in the 2022 Girl Scout Cookie Program. You may see cookies, but we see leadership and adventure in each box."
Yes, but I also see cookies. Boxes and boxes of cookies that I cannot wait to get to my house one way or another.

In Other NEWS