ByJulie Bosman– The New York Times | Lauren Leatherby– The New York Times
Troy Warren for CNT #COVID-19

Nearly 700,000 people across the United States have now died of the coronavirus, a milestone that few experts had anticipated months ago when vaccines became widely available to the American public.
An overwhelming majority of Americans who have died in recent months, a period in which the country has offered broad access to shots, were unvaccinated. The United States has had one of the highest recent death rates of any country with an ample supply of vaccines.
The new and alarming surge of deaths this summer means the coronavirus pandemic has become the deadliest in American history, overtaking the toll from the influenza pandemic of 1918 and 1919, which killed about 675,000 people.
"This delta wave just rips through the unvaccinated," said Howard Markel, a medical historian at the University of Michigan. The deaths that have followed the wide availability of vaccines, he added, are "absolutely needless."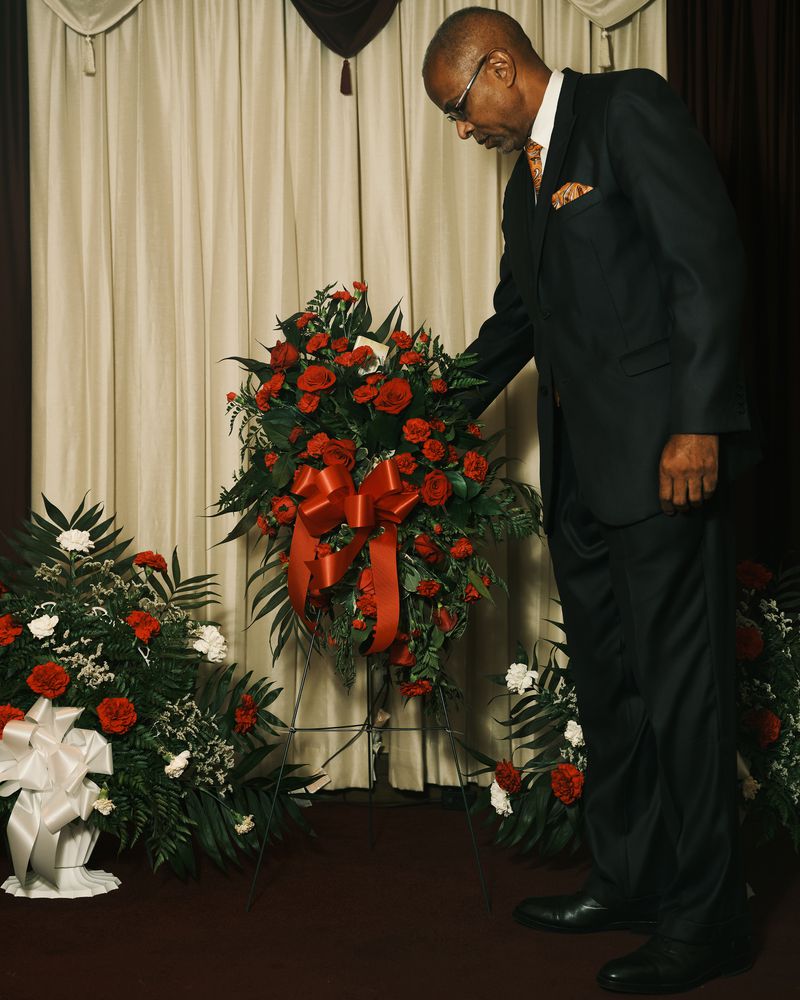 The recent virus deaths are distinct from those in previous chapters of the pandemic, an analysis by The New York Times shows. People who died in the last 3 ½ months were concentrated in the South, a region that has lagged in vaccinations; many of the deaths were reported in Florida, Mississippi, Louisiana and Arkansas. And those who died were younger: In August, every age group under 55 had its highest death toll of the pandemic.
Close to 100,000 people across the United States have died of COVID-19 since mid-June, months after vaccines were available to American adults.
The U.S. government has not closely tracked the vaccination status of everyone who has been infected with the virus, but the Centers for Disease Control and Prevention has so far identified 2,900 people who were vaccinated among the 100,000 who died of COVID since mid-June.
Vaccines have been proven highly effective in preventing severe illness and death, and a study from the CDC that was published in September found that after delta became the dominant variant, unvaccinated people were more than 10 times more likely to die of the virus than the vaccinated were. The study, which spanned from April to mid-July, used data from 10 states, New York City, Los Angeles County and King County, Washington, which includes Seattle.
Below is a map of where deaths due to the coronavirus have been reported so far in the U.S., organized by state (data from The New York Times, Johns Hopkins University and Georgia Department of Public Health):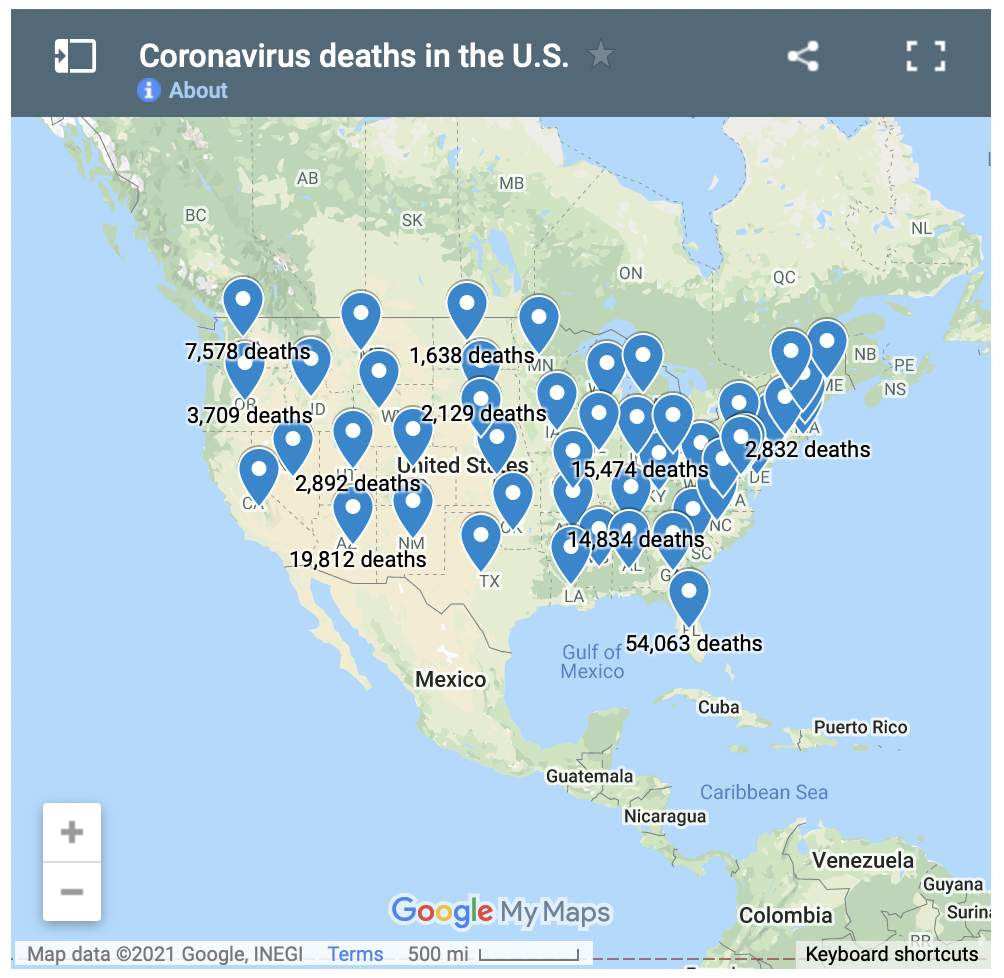 The pace of death has quickened, then slowed, then quickened again over the past 18 months as the virus has rippled across America in waves.
The most recent 100,000 deaths occurred over more than three months, a considerably slower pace than when the pandemic reached its peak last winter. During that earlier surge, just 34 days elapsed between the nation's 400,000th and 500,000th death.
By late September, more than 2,000 people on average were dying from the virus each day, a level the country has not reached since February.

But the recent deaths have left families and friends, some of whom said they had thought the pandemic was largely over, stunned and devastated. Weary doctors and nurses voiced frustration that many of the patients whose lives they were now struggling to save had shunned vaccines. Coroners, funeral home directors and clergy members were again busy consoling the grief-stricken and preparing the dead for burial.
Wayne Bright, a funeral home director in Tampa, Florida, has been handling COVID-19 deaths since the beginning of the pandemic, working long hours under difficult circumstances.
Still, this summer has been different.
About 40% of the most recent 100,000 people to die of the virus were under 65, a share higher than at any other point in the pandemic, and Bright has spent months bearing witness to what he calls "premature grief." In one family, a father of teenagers died. A 16-year-old girl in another family lost her mother, aunt and cousin to the virus, all in quick succession.
"Now you're dealing with people in their 30s and 40s and 50s," he said. "These are people who, without the pandemic, they would almost certainly be alive and live full lives. It's so much worse now than it was when the pandemic first happened. The delta variant is tremendously worse. It would be hard for me to define just how much worse it is."
His own exhaustion runs deep. He works seven days a week and has lately been confronted with previously unimaginable problems: shortages of caskets, hospitals with full morgues and a need to schedule burials weeks into the future so cemeteries will have vaults available.
"It certainly has taken a toll," he said. "And you just think, this just doesn't have to be."
The delta surge has hit working-age Americans particularly hard. Older Americans are still more susceptible to the virus but have benefited from their willingness to be vaccinated: People 65 and older, who have been among the most vulnerable to serious illness from the virus, have the highest rate of vaccination of all age groups, at 83% fully vaccinated, according to the CDC.
Vaccine mandates have begun to take effect in some states and within some companies, and on Friday, California became the first state to announce plans to add the coronavirus vaccine to other vaccinations required to attend school, starting as early as next fall. But only 65% of the eligible U.S. population is fully vaccinated. The nation's vaccination campaign has been slowed by people who say they are hesitant or unwilling to get shots, amid a polarized landscape that has included misinformation from conservative and anti-vaccine commentators casting doubt on the safety of vaccines.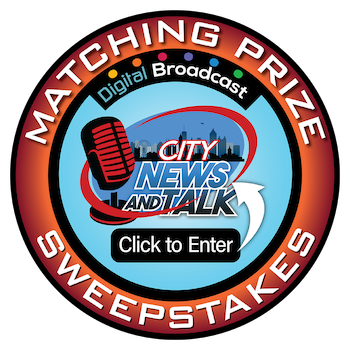 In Other NEWS