By Mike Pomranz | FoodAndWine.Com
Troy Warren for CNT #Foodie

Only one bed is being sold, and only on a first-come, first-serve basis.
Your bed is for sleeping; not for eating candy. Most parents would probably agree with that. But now, for any kid (or kid at heart) who has dreamed of eating as much candy as they like from the comfort of their comforter, Skittles has collaborated with the mattress brand Simmons to create the ultimate Skittles-dispensing bed.
The Simmons Sweet Sleep begins life as what looks like a massive candy dispenser featuring five large tubes, one for each Skittles flavor (or whatever candy you'd want to fill them with). However, that facade slides to the right, revealing a twin Murphy bed — replete with a Simmons mattress, of course — that flops down to offer temporary sleeping arrangements next to your candy machine.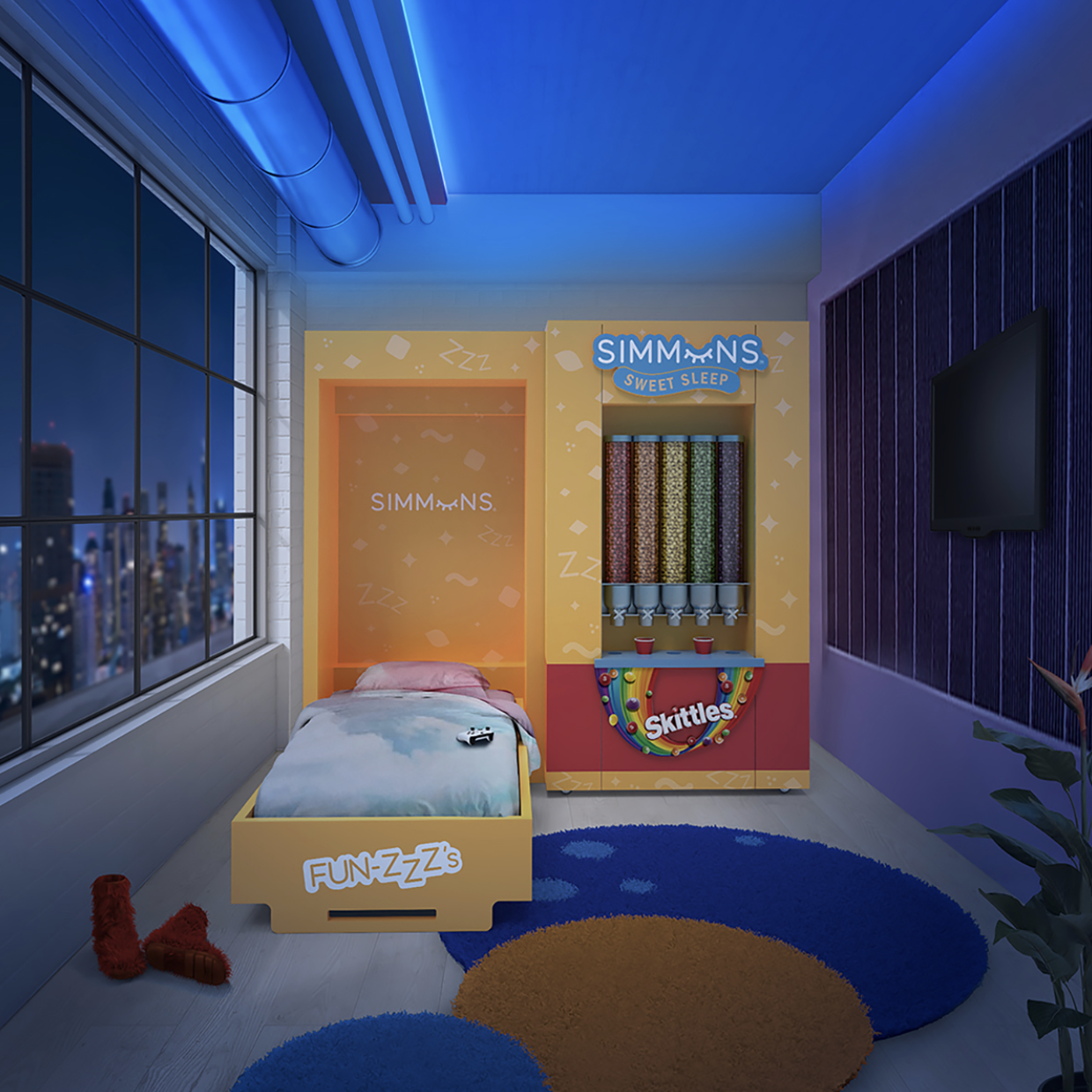 Though procuring your candy appears to require a bit of leaning, you'd be hard-pressed to get candy much closer to where you sleep without stashing boxes under your pillow. And as for the visual design, the two brands explain that they "love all things colorful, bold and unpredictable, and we're obsessed with bringing fun to everyone's lives," meaning the bright yellow "bed" features plenty of Skittles and Simmons branding and other little flourishes.
Though this bed could potentially be hit with anyone who has plenty of room for a candy dispenser but not enough room for a bed, Skittles and Simmons have decided instead to only put one single bed up for sale and anyone has the chance to score it for the same price as a bag of Skittles.
At some undisclosed point after 1 p.m. ET on December 13, Simmons is going to put this lone Simmons Sweet Sleep Bed up for sale at Simmons.com/SweetSleep for just $1.50. It'll be sold on a first-come, first-serve basis (ostensibly to whoever happens to be pounding the refresh button on their browser the fastest at that exact moment). However, the brand does state that interested parties can "follow Simmons on Instagram for hints on when this exclusive item will be available."
So, are you likely to get this bed? Probably not. But would it make for a great Christmas present if you did? That really depends on how much the people on your Christmas list love Skittles.

In Other NEWS