By Mike Pomranz | FoodAndWine.Com
Troy Warren for CNT #Foodie

This year's lineup once again features all new wild Thanksgiving creations.
Like many modern ice cream companies, Portland, Oregon-based Salt & Strawprides itself on offering many unique – and sometimes bizarre – flavors. They've run the gamut from sheep's milk cheese ice cream (interesting!) to smoked ham soft-serve (what the hell?!) But November is the brand's time to shine: For the ninth straight year, they're offering their full Thanksgiving meal in ice cream form– and once again, for 2021, the pints can be shipped across the U.S.A. in time for turkey day.
This year's five-pint "Friendsgiving Series" features five all-news twists on classic Thanksgiving dishes in dessert form: Parker House Rolls w/ Salted Buttercream, Caramelized Turkey & Cranberry Sauce, Candied Walnut Cheesecake, Sweet Potato Pie w/ Double Baked Almond Streusel, and Pumpkin & Gingersnap Pie (which is vegan).
If it all sounds like a bit much to put into a cone, you're not necessarily wrong: Food & Wine taste tested a different batch of flavors years ago and the response was mixed. Still, if you're a fan of unorthodox ice cream, the pros at Salt & Straw probably won't disappoint.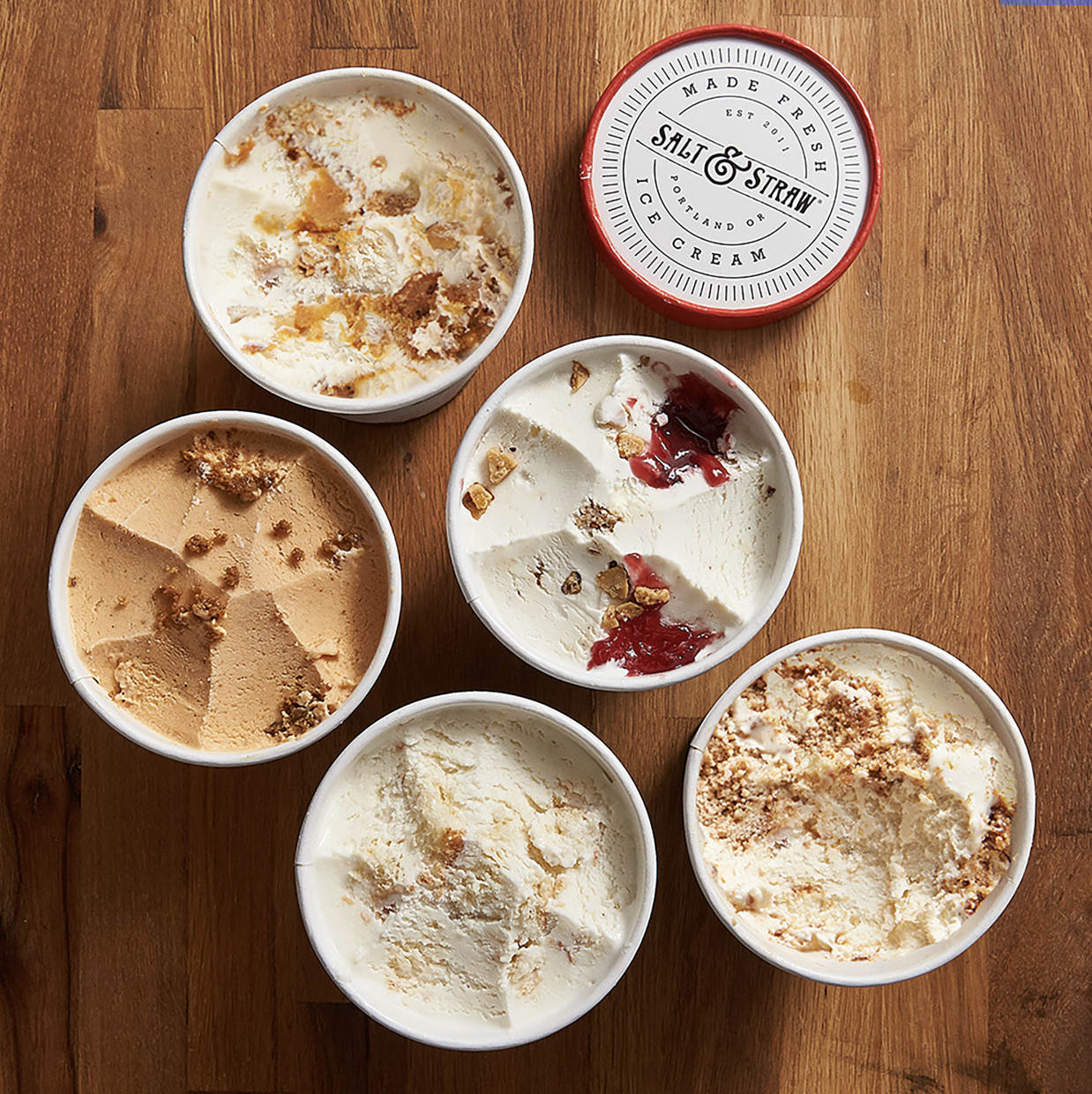 For the Parker House Rolls w/ Salted Buttercream flavor, Salt & Straw says they start with buttery rolls that have been "glazed with a generous smear of fresh-churned buttercream and topped with flaky sea salt." Then, "as the spongy rolls soak it in, we gently churn them into salted sweet cream."
With the Caramelized Turkey & Cranberry Sauce pint, the brand says they "roast turkey bacon from our friends at Diestel Farms to crispy perfection before tucking it into a savory, buttery brittle with thyme and freshly ground cubeb pepper." They suggest, "The bacon imparts a deliciously smoky, salty flavor that joins our housemade cranberry sauce—sweet and jammy, with a pleasant tartness to cut through the sides of savory."
Traditional ice cream fans will probably gravitate towards the Candied Walnut Cheesecake flavor which includes "layers of rich cheesecake, bringing warm notes of caramel and molasses" along with a "graham cracker crumble with walnut butter from our friends at Spread the Love."
Back to the more bizarre, Sweet Potato Pie w/ Double Baked Almond Streusel starts with sweet potatoes that have been roasted low and slow, "letting them lightly caramelize to release that incredible dark syrupy goodness." From there, Salt & Straw says they "add in golden brown bits of almond croissant streusel that are baked—then baked again—for the most delightfully buttery, flaky bites."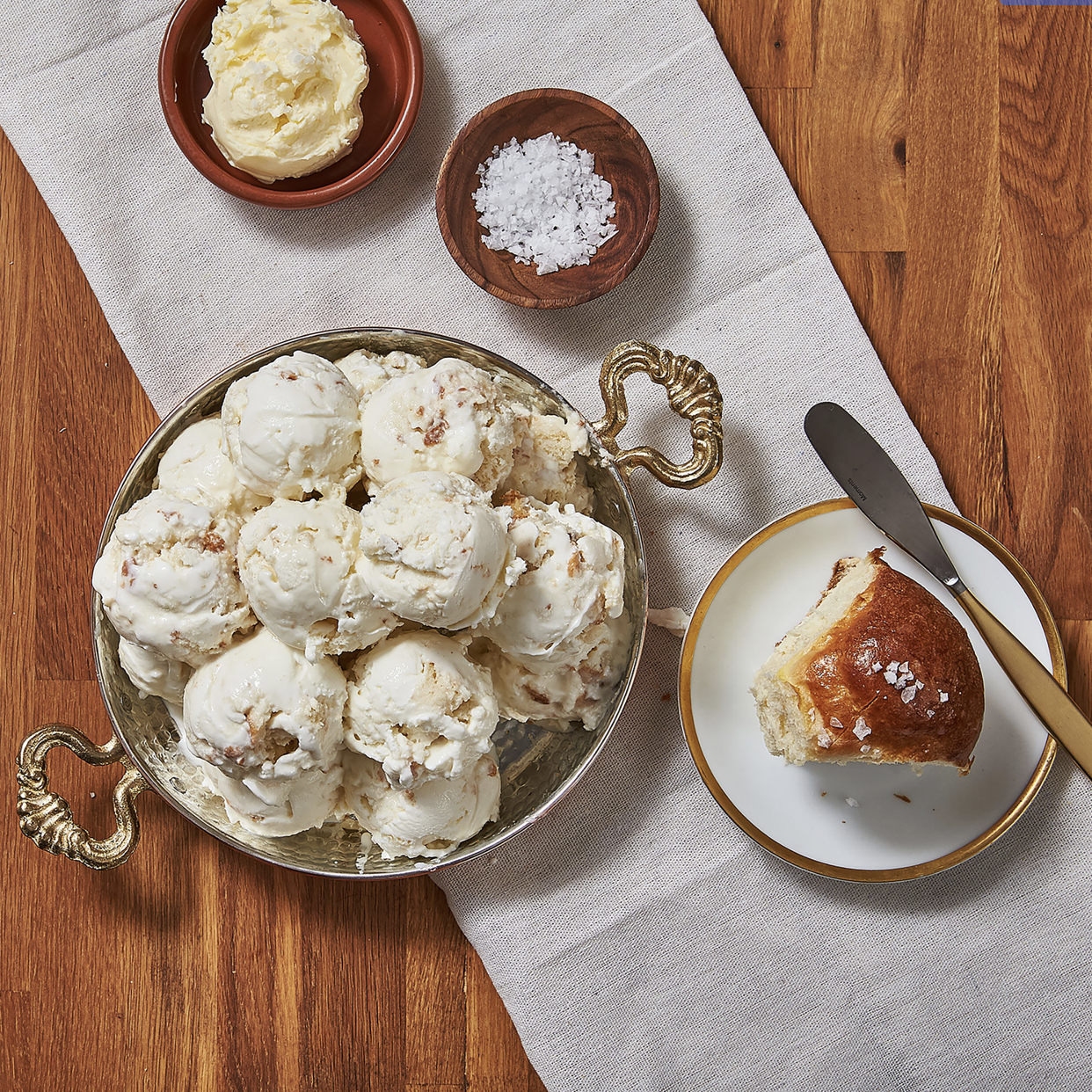 Finally, the vegan Pumpkin & Gingersnap Pie pint starts with "ultra-creamy coconut" before the ice cream makers "crumble in a sugared crust, complete with a delectable crunch from our molasses-spiked gingersnap."
If you want to add a frozen touch to your own Thanksgiving celebration this year, the Friendsgiving Series can be purchased for $65 on the Salt & Straw website for shipping nationwide. Or you can pick up the pints locally if you happen to live near any of Salt & Straw's 25 retail locations in California, Oregon, Washington, and Florida.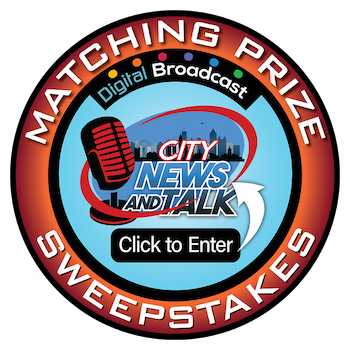 In Other NEWS