By Jelisa Castrodale | FoodAndWine.Com
Troy Warren for CNT #Foodie

Four "new" fan-inspired sandwich mashup options will be available in restaurants or through the app starting on January 31.
If you search the hashtags #menuhack or #secretmenu on TikTok or Twitter, you'll find an absolutely overwhelming selection of items you could theoretically get at your favorite fast food restaurant. But with so many #hacks out there, you also run the risk of ordering something that, like, only 15 people have heard, or you'll slow down the drive-thru line while you try to explain whatever a "Triple Clanger" is, or both.
McDonald's has apparently been paying attention to some of the… let's say "unofficial" menu items that have made their way around the internet and, for the first time ever, they're encouraging customers to order them by name. Starting on Monday, January 31, there are four new "hacks" that will be available at participating McDonald's restaurants nationwide, and through the McDonald's app.
The four "new" menu items include:
Hash Brown McMuffin: This item is exactly what it sounds like: a Sausage McMuffin with Egg that has been accessorized with one of McDonald's crispy hash browns. (This delicious combo is only available during breakfast hours.)
Crunchy Double: If you've ever taken a bite of a Double Cheeseburger and thought "I wish this was topped with McNuggets," you're in luck. You'll get an order of McNuggets to go on that Double Cheese, and some Tangy BBQ sauce to top it all off with.
Land, Air, & Sea: You'll need to be hungry to take on this triple-threat, which is a Big Mac topped with both a McChicken and a Filet-O-Fish.
Surf + Turf: When you can't decide between a Double Cheeseburger or a Filet-O-Fish, this new mashup is basically an edible version of that "Why Not Both?" gif. (This particular hack is only available on the McDonald's app or for McDelivery, but does come with a free medium drink and fries.)
"From Hip-Hop icons to Christmas queens, everyone has a unique go-to McDonald's order, including our everyday customers. This campaign shows that it has never been 'our menu' — the menu belongs to our fans," Jennifer Healan, the Vice President of U.S. Marketing, Brand Content and Engagement for McDonald's USA, said in a statement. "We're excited to celebrate them in a bigger way than ever before by putting their delicious hacks — as seen in social media — on our menus."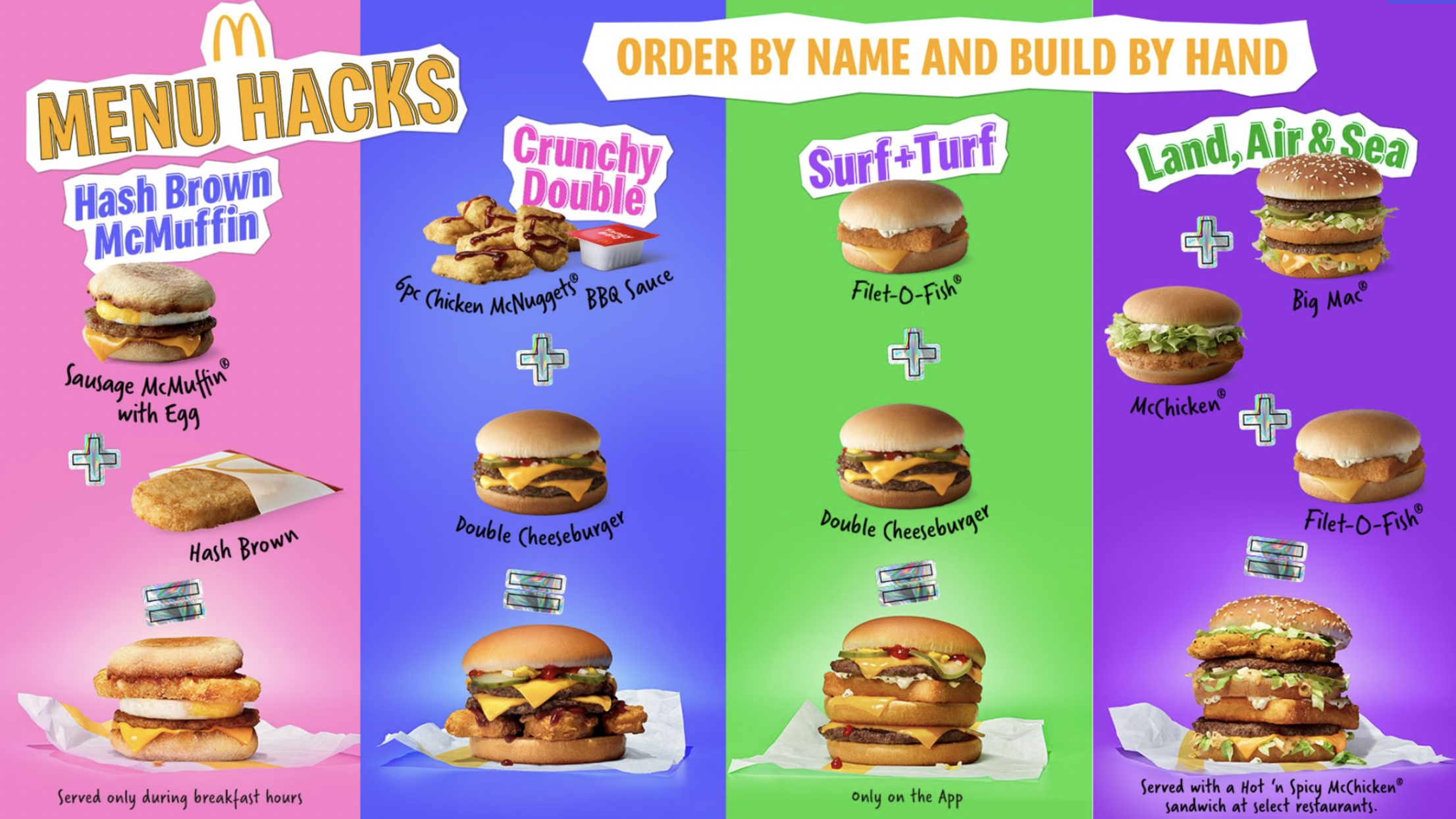 As an important side note, the McDonald's team members will not be assembling these hacks for you. If you order a Surf + Turf, but look into the bag and see a Filet-O-Fish and a Double Cheeseburger wrapped separately, that's not wrong! McDonald's is just giving you the components to build each one yourself — and when you've finished putting it together, they'd like you to share it on social media with the hashtag #McDonaldsHacks.
Oh also, don't order a "Triple Clanger." We made that one up.

In Other NEWS