By Adam Campbell-Schmitt | FoodAndWine.Com
Troy Warren for CNT #Foodie

The charity-supporting collaboration will be available in both dairy and non-dairy pints.
Celebrity food collaborations are all the rage right now, whether you're Mariah Carey teaming up with McDonald's or Justin Bieber getting into the donut game. But the ice cream makers at Ben & Jerry's aren't new to the concept, having released pints with the likes of Stephen Colbert, Jimmy Fallon, and Colin Kaepernick. Today, the brand adds one more big name to its list as Ben & Jerry's and Chance the Rapper roll out Mint Chocolate Chance for a good cause.
For fans of the "mint" part of "mint chocolate chip" ice cream, the new flavor delivers with a solidly minty base, but it might also convert some chocolate lovers with the addition of chewy fudge brownie pieces instead of the usual chips.
An added bonus of this limited-release flavor is that it comes in both dairy and non-dairy varieties, with a sunflower butter-based version also debuting at the same time. (In addition to other non-dairy flavors, Colin Kaepernick's sunflower butter Change the Whirled ice cream was sold by Ben & Jerry's as an exclusively plant-based product.)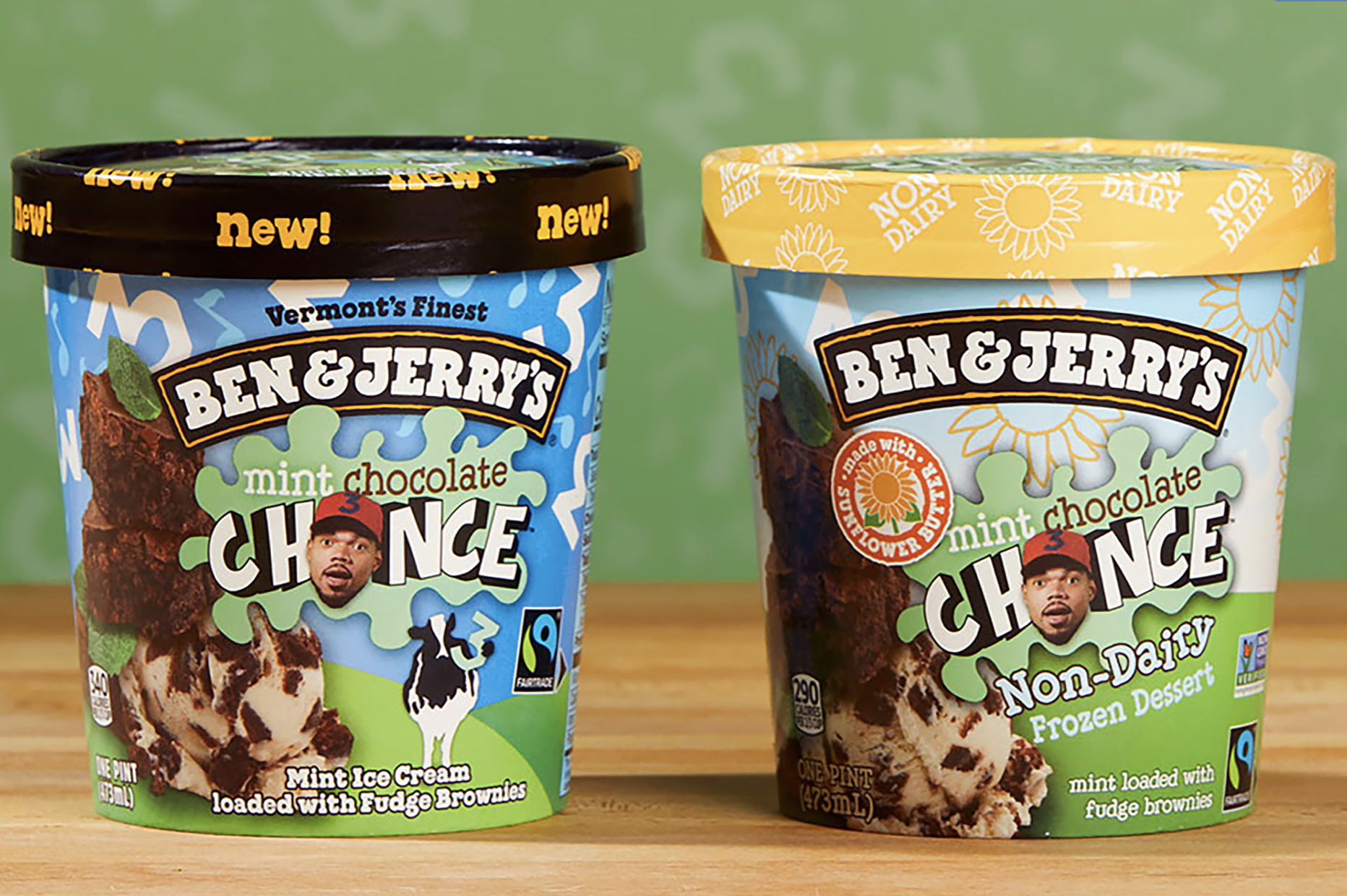 "I'm so excited to have my own flavor of ice cream with Ben & Jerry's. I grew up with their ice cream as a kid so getting to create a new flavor brought back a lot of great memories," Chance was quoted as saying in the announcement. "It amazes me that no one thought to combine brownies and mint chocolate chip and I can't wait to share it with everyone."
As an added bonus, a portion of the sales from Mint Chocolate Chance will go to support a worthwhile cause: Chance the Rapper's Chicago-based SocialWorks, which "aims to empower youth through the arts, education and civic engagement with programming that focuses on education, mental health, homelessness and performing and literary arts."
Pints of the new flavor (in both its formats) are set to hit freezers sections in the "first quarter" of 2022.

In Other NEWS