By Mike Pomranz | FoodAndWine.Com
Troy Warren for CNT #Foodie

Over the years, as wine has shed its snobby reputation, drinkers have embraced more everyday wine pairings, from wine and quarantine snacks to wine and Halloween candy. We've even seen major brands team up to package these pairings. For instance, Cheez-It has had an ongoing partnership with Usual Wines to perfectly match vino and snack crackers.
Now, two of the biggest names in the game have announced a collaboration sure to solidify the reputation of down-to-earth pairings: Barefoot is releasing a collaboration wine inspired by Oreos.
"Everyone knows that red wine pairs well with chocolate, but Oreo Thins and America's most loved wine, Barefoot Wine, are collaborating to take this classic combination to a whole new delicious level," Sydney Kranzmann, brand manager for Oreo Thins *Oreo's slimmer cookie cousins ) stated. "Oreo Thins cookies have always been the perfect Oreo cookie for adults — so we are excited to showcase a new grown-up pairing."
No Oreo cookies were harmed in the production of this tipple. Instead, Barefoot says their "very first cookie-inspired wine" is intended to perfectly pair with Oreo Thins thanks to the 13-percent ABV blend's aromas of chocolate and tasting notes that include more chocolate, cookies and crème, and oak, along with the natural flavors of blackberry and dark cherries. "We had such a great time exploring the different flavor combinations, ultimately pairing the signature flavors of Oreo Thins cookies with a blend of our bright, berry-flavored red wine," explained Barefoot winemaker Jen Wall.
The resulting Barefoot x Oreo Thins Red Blend Wine — billed on the label as a "grape wine with natural flavors" — will be sold starting December 9 exclusively at BarefootWine.com/oreothins. For $24.99, shoppers will receive two 750-milliliter bottles of the wine along with one package of Oreo Thins cookies for their pairing pleasure (while supplies last).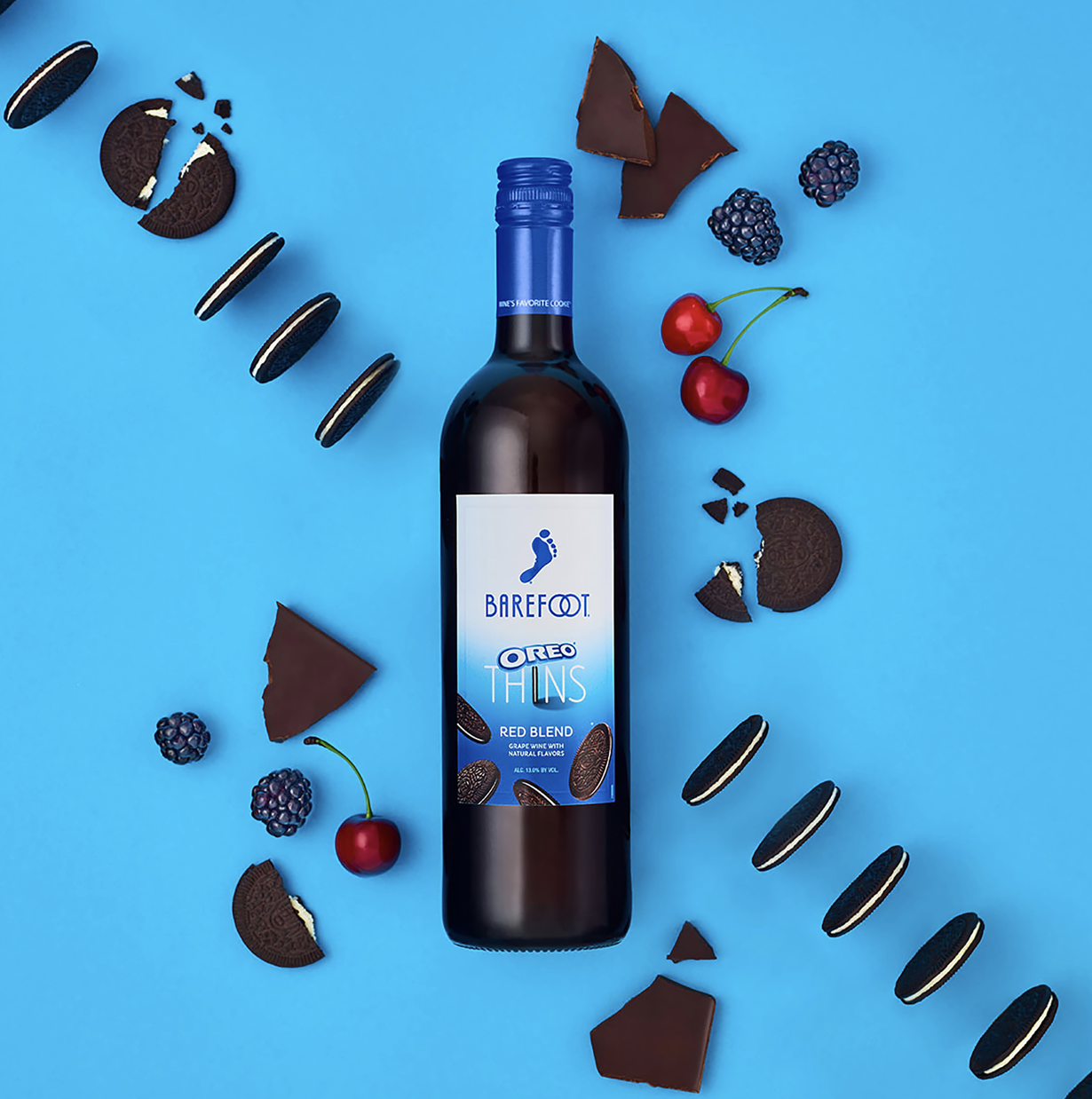 "We can't wait for our Oreo Thins fans (21+, of course!) to enjoy their favorite cookies with this rich and chocolatey flavored Barefoot x Oreo Thins Red Blend Wine," Kranzmann continued.
But pairing aside, this one might be worth it for the label alone which really embraces the Oreo artwork in a place you probably never expected to see it. The bottle is sure to make conversation even before you're getting tipsy off 13-percent ABV cookie wine.

In Other NEWS